Office Layout Types: Your Comprehensive Guide to Choosing the Right One
Office layout carries much importance in the modern workplace. Differing from one by one, office layout types significantly impact employee productivity, well-being, collaboration, and the overall success of a business. This article delivers a comprehensive guide to help businesses opt for suitable office layout types among diverse choices. By choosing the one that aligns with company goals, culture, and the needs of employees, the company benefits enormously from a more efficient, collaborative, and inspiring work environment.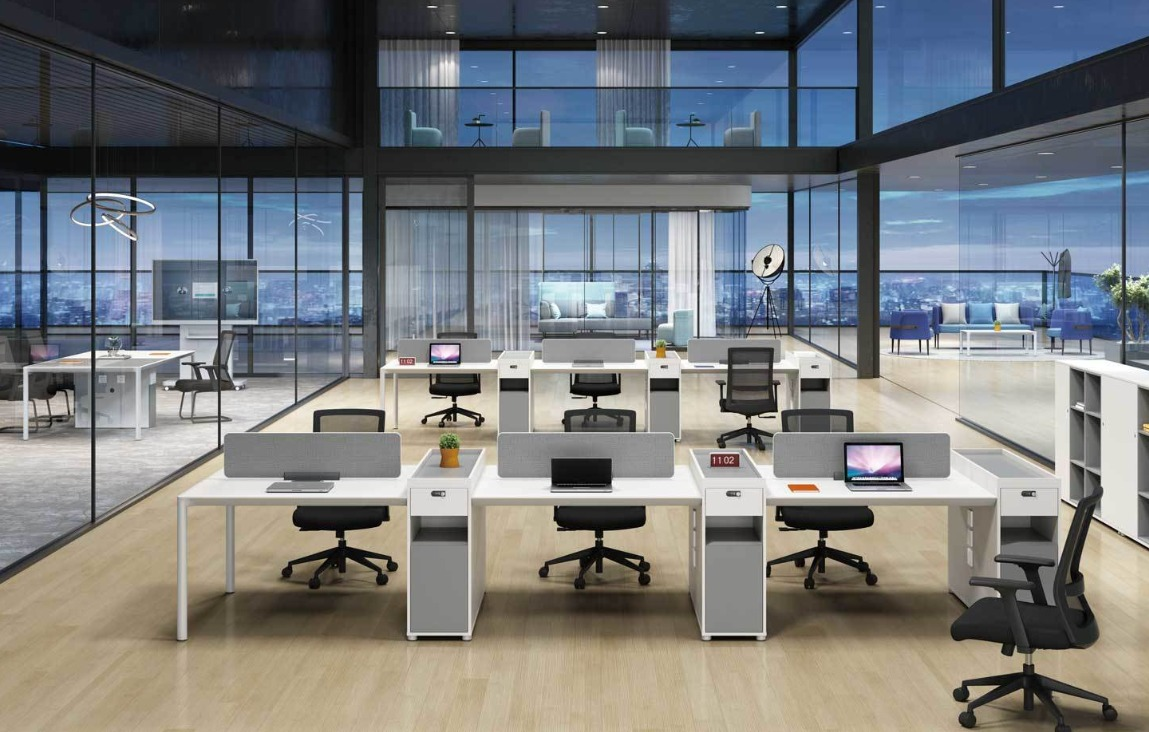 Definition of

O

ffice

L

ayout
Office layout refers to the spatial arrangement and organization of physical items within a workplace. It encompasses the strategic placement of furniture, equipment, and other components to foster a functional working environment. The entire space is arranged into organized sectors, including individual workspaces, common areas, circulation paths, and more. Despite different types of office layouts, they all aim to optimize the use of space, support workflow processes, stimulate effective communication, and promote productivity and employee happiness.
Understand

C

ommon

O

ffice

L

ayout

T

ypes
Bearing respective advantages, varied office layout types could be hard to choose. The subsequent introduction may shed some light on your decision-making.
1. Traditional

O

ffice

L

ayouts
Traditional office layouts feature a hierarchical and structured design. It guarantees privacy and minimizes distractions because of its individual offices for executives and managers and separated cubicles for staff. Moreover, it offers centralized spaces for common facilities like conference rooms. However, with a clearly defined hierarchy and separation of roles, its dedicated spaces might limit employee's collaboration and communication. Potential problems like isolation and lack of transparency might be inevitable. Besides, the utilization of space could be inefficient and cause extra costs.
2. Open

O

ffice

L

ayouts
Open office layouts could be favored for the absence of physical partitions between employees. The large open workspace is believed to help boost collaboration among employees and, thus, cultivate a sense of unity and teamwork. This office layout type maximizes space efficiency and cost-effectiveness. But the undesirable side is prominent as well. Without the physical barriers, the decrease in privacy and potential increase in distractions might affect concentration and productivity.
3. Hybrid

O

ffice

L

ayouts
Hybrid office layouts come as a combination of the above two different office layout types. They provide workspaces involving private offices, cubicles, and shared collaborative areas. This innovative type is flexible to accommodate different work styles and offers an adaptable work environment by balancing the need for privacy and collaboration. But, it could be challenging to strike the right balance, and careful planning and management are required to avoid inefficiencies.
How to

C

hoose the

P

erfect

O

ffice

L

ayout

T

ype
Selecting the perfect office layout type is a crucial decision that should be made after a thoughtful assessment of various factors. The following steps guide you to choose the right one.
1. Assessing

Y

our

C

ompany

'

s

N

eeds and

C

ulture
Diversified in work styles, the chosen office layout should be in line with your company's goals. For instance, a creative agency may benefit more from an open layout, while a law firm may require more privacy for client confidentiality. Besides, different roles could handle dedicated tasks and work processes. Some might demand quiet and focused work, while others thrive in collaborative environments. Also, your organization's values and culture are helpful in making the preferred choice.
2. Conducting

E

mployee

S

urveys and

F

eedback
You can also boldly engage your employees in the decision-making process. Conduct surveys to ask about their ideal workspace, what restrains their productivity, and what office layout types best support their work. Encourage open and honest discussion to gather their feedback.
3

. Working with

D

esign

P

rofessionals, if

N

ecessary
If the resources are abundant, hiring professional interior designers or space planners could be a fine choice. With their expertise, it is promising that functional and aesthetic needs could be fulfilled to the highest level.
4

. Making a

F

inal

D

ecision on the

O

ffice

L

ayout
With data collected from the assessments, employee feedback, and possible professional recommendations, you can weigh the pros and cons of different office layout types based on your company's unique circumstances. After further consideration of budget and space limitations, you will undoubtedly make a well-informed decision.
Dious Furniture: Your

T

rustworthy

Commercial Furniture Manufacturer
With a blueprint in mind, questions might emerge regarding office furniture solutions. Dious Furniture, the leading commercial furniture manufacturer in China, comes with diverse proposals promising satisfactory cooperation. Take two of our products as examples.
Lambo series supports multiple modular designs and accessories, which showcases multi-faceted and all-round effectiveness. To cope with substantial storage and privacy needs, we have developed an "F" shaped panel system with side cabinets over one meter in height. The modular "F" shaped workstations can be easily customized and expanded according to your requirements. What's more, if enlarged storage space is needed, you can also incorporate mobile pedestals.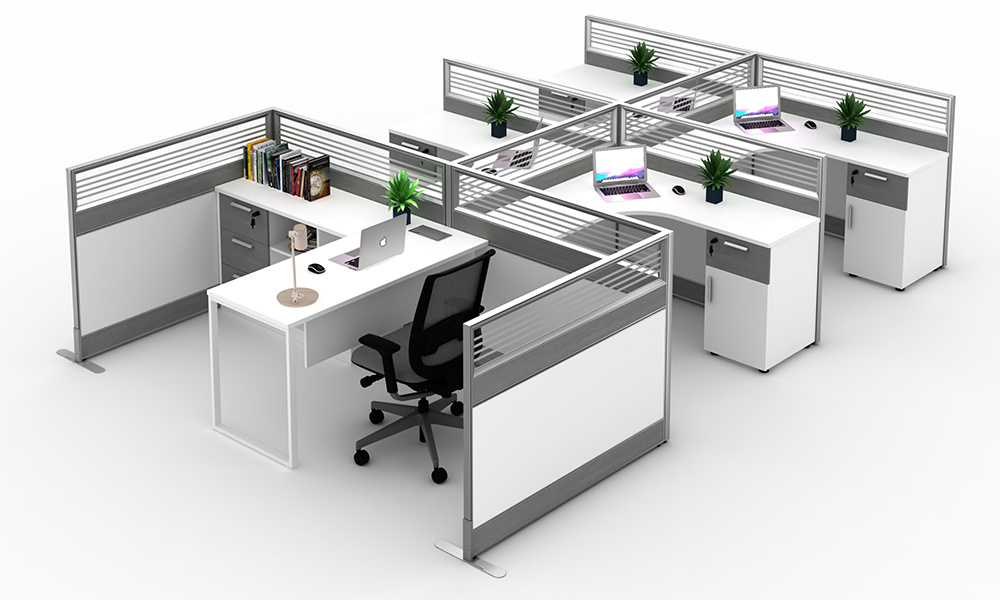 If you try to reach the balance of privacy and communication, the Wisdom P60 Staff Workstation might be your assistant to accomplishment. Its innovative screen design ensures timely work communication while enhancing personal privacy. Extra privacy is guaranteed with secret lockers to keep private office documents. Additionally, the design of slender and stable metal table legs enables ample space under the table, making your employees find comfort when stretching their bodies freely. By utilizing eco-friendly materials, the Wisdom P60 Staff Workstation also helps you to catch up with sustainable development.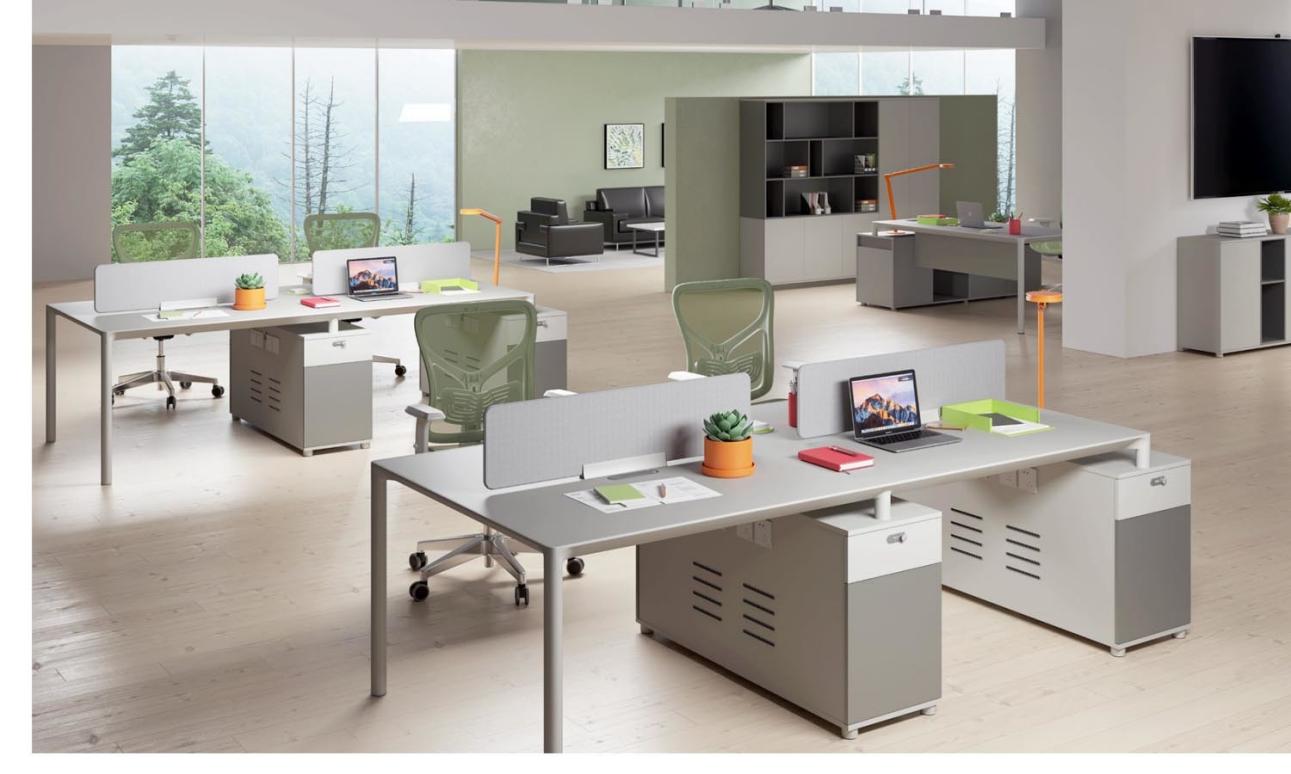 Conclusion
Powered by smart production lines, Dious Furniture commits to providing green and comfortable workspaces for our clients. Offering modern office furniture ranging from workstations to storage, we produce a diverse range of trendy designs at competitive prices and have confidence that you will find the right products catering to different office layout types. With professional ODM&OEM services, we are prepared to be the reliable partner who transforms your blueprint into reality.
What Can We Do for You

ODM & OEM

Customization

Fast Delivery from Stock

CAD Layout & Rendering
No.422, Jin'ou Road, Jianghai District, Jiangmen City, Guangdong, China
Follow Us