Top CEO Office Design Ideas to Elevate Your Leadership Style
A CEO's office is more than just a workspace. It speaks about their personality and leadership style without you having to say a word. Not just that, but it can also efficiently communicate the values and beliefs of the organization to anyone that enters the space. It is crucial for a CEO to have full control over what subtle messages he is giving to his visitors through his office decor and style. So let's dive into what CEO office design ideas you need to consider to elevate your leadership style.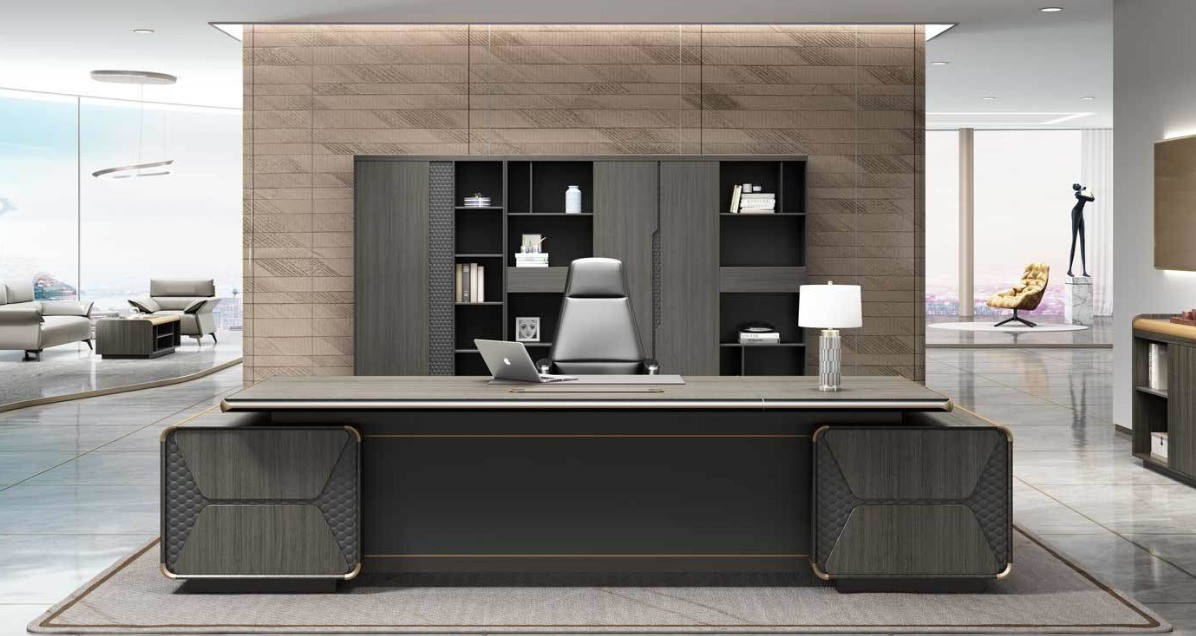 Modern CEO Office Design

Elements and Leadership Styles
David Hicks, an English Interior Designer, once said, "The best rooms have something to say about the people who live in them." we cannot agree more!
CEO office design ideas can vary depending on the leadership style. A traditional leadership style may prefer large, solid desks made of dark, polished wood along with high-back chairs with leather padding to convey a sense of formality and authority. The traditional decor also tends to incorporate classic, timeless elements such as oil paintings and bookshelves filled with leather-bound books.
Modern CEO office design often speaks to the leader's personality through sleek and minimalistic furniture with clean lines. The minimalist artwork and clean, uncluttered spaces create a sense of calm and focus.
But if we talk about innovative leadership CEO office design ideas, it pairs well with versatile and modular furniture. It further includes whiteboards and brainstorming walls to encourage creation.
Top CEO Office Design Ideas
Design elements, including layout, furniture, and decor, play a key role in shaping the ambiance and aesthetic of a space. Here are a few CEO office design ideas you can consider to make the most out of your workspace:
Natural Lighting

- Let plenty of natural light enter the office so the space looks bright and inviting, creating a warm and welcoming vibe.

Large windows or skylights can be utilized to maximize natural light, promoting a sense of openness and vitality.
Warm Color Palette and Comfortable Seating

- Use warm and stress-reducing color schemes to make visitors feel comfortable.

Earthy tones or soft hues can help achieve this effect. Comfortable seating, such as plush armchairs or sofas, can make visitors feel at ease and encourage relaxed conversations.
Ergonomic Furniture

- The CEO's desk and chair should prioritize both aesthetics and ergonomic principles. A comfortable chair with proper lumbar support and an adjustable desk can help maintain good posture and reduce strain during long hours of work. This promotes the CEO's well-being and productivity.
Highlight Achievements

- Add personal touches through strategic accessories that reflect the CEO's achievements.

Displaying awards, certificates, or mementos can highlight their accomplishments and inspire both the CEO and visitors. Artwork, photographs, or quotes that resonate with the CEO's values can also be incorporated to create a personalized and motivating environment.
Open to Changes

- Explore ways to expand the office space as needed, adapting to unique CEO office design ideas

. This can include options for modular furniture, adaptable storage solutions, or even provisions for expanding the physical office space as needed.
Best CEO Office Furniture Solutions from Dious Furniture
The Ferrari executive desk is made for the leaders that speak nothing but a legacy. The L-shaped CEO office design offers privacy, while the 3D honeycomb leather pattern on the front panel adds a touch of luxury. This piece surely implies authority.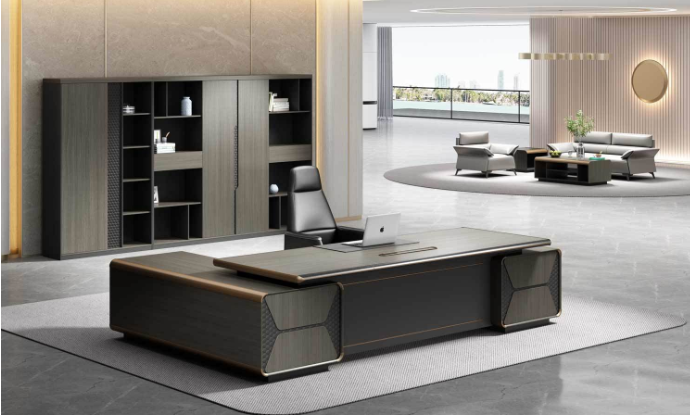 The executive leather chair not just brings comfort but also offers a unique aesthetic to the office interior. With highly breathable leather that is stitched to support the curves of the body, this chair effortlessly becomes the centerpiece of your workspace, making a stylish statement.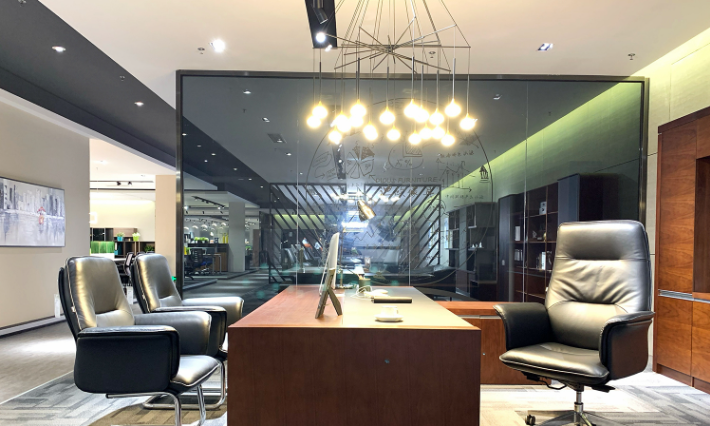 The dark-themed coffee table brings coziness to the office and builds a welcoming environment. The modern and minimalistic style reflects your elite taste while also offering premium functionality through the tabletop, table feet, baffles, and cabinets.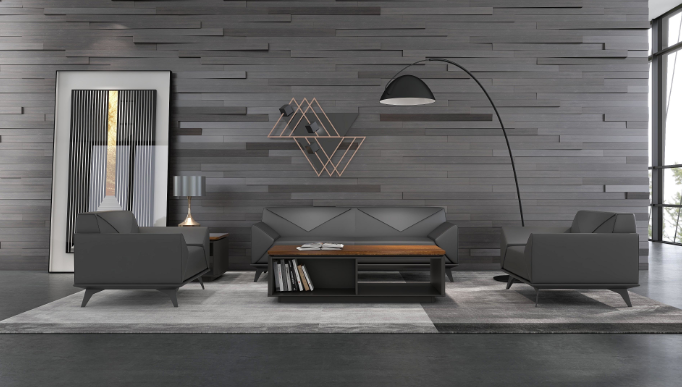 Designed with a style that radiates sophistication, these sets effortlessly elevate the look of any living space to a designer-like level. This versatile sofa set offers a comfortable cushion that encourages comfort and suits various office spaces through its elegant fashion.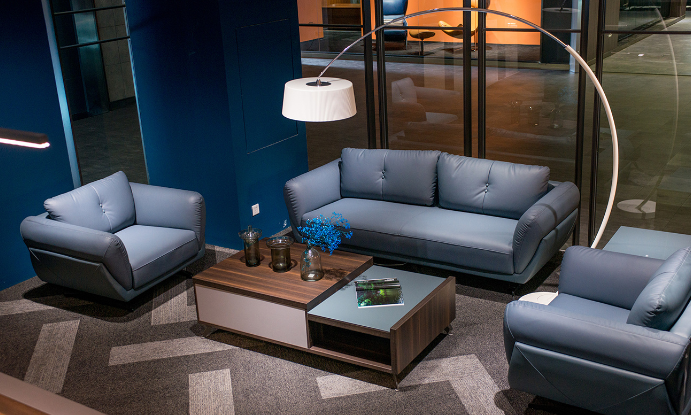 Dious Furniture

:

A Reliable Office Furniture

Manufacturer
Dious Furniture has been a notable brand in the commercial furniture market through our commitment to quality, comfort, and style. With an impressive presence of 4 manufacturing bases with over 1 million square meters, around 5,000 employees, and an annual turnover of 300 million USD, Dious Furniture has established itself as a trusted and dependable supplier in the industry for CEO office design ideas. We are a renowned brand known not just for style or quality but also for our sustainability principles. We have strict sustainability standards and energy-saving policies in place to ensure the environment is protected at all costs. We don't simply manufacture furniture but also do research and development, offer exceptional after-sales service, source eco-friendly materials, incorporate modern and fashionable designs, and all this is done while maintaining competitive prices. Do go over our product portfolio to get the best CEO office design ideas.
What Can We Do for You

ODM & OEM

Customization

Fast Delivery from Stock

CAD Layout & Rendering
No.422, Jin'ou Road, Jianghai District, Jiangmen City, Guangdong, China
Follow Us