Luxury Executive Desks: Increase The Confidence Of Staff And Company Culture
Luxury executive desk is high-end and luxurious office furniture that not only has a beautiful design but also adds a noble atmosphere to your office. Now we have a range of high-quality luxury executive desks that provide you with a comfortable, practical, and noble office experience.
Luxury executive desks by DIOUS Furniture use high quality materials and processes, combined with human engineering, to create office furnishings that fit your physical characteristics and work needs. We focus on detail, from desk to edge to five gold accessories are strictly fitted to make your luxury executive desks even more perfect. Our design team is also very professional, able to offer you a variety of different design solutions, making your desk more personal and luxury.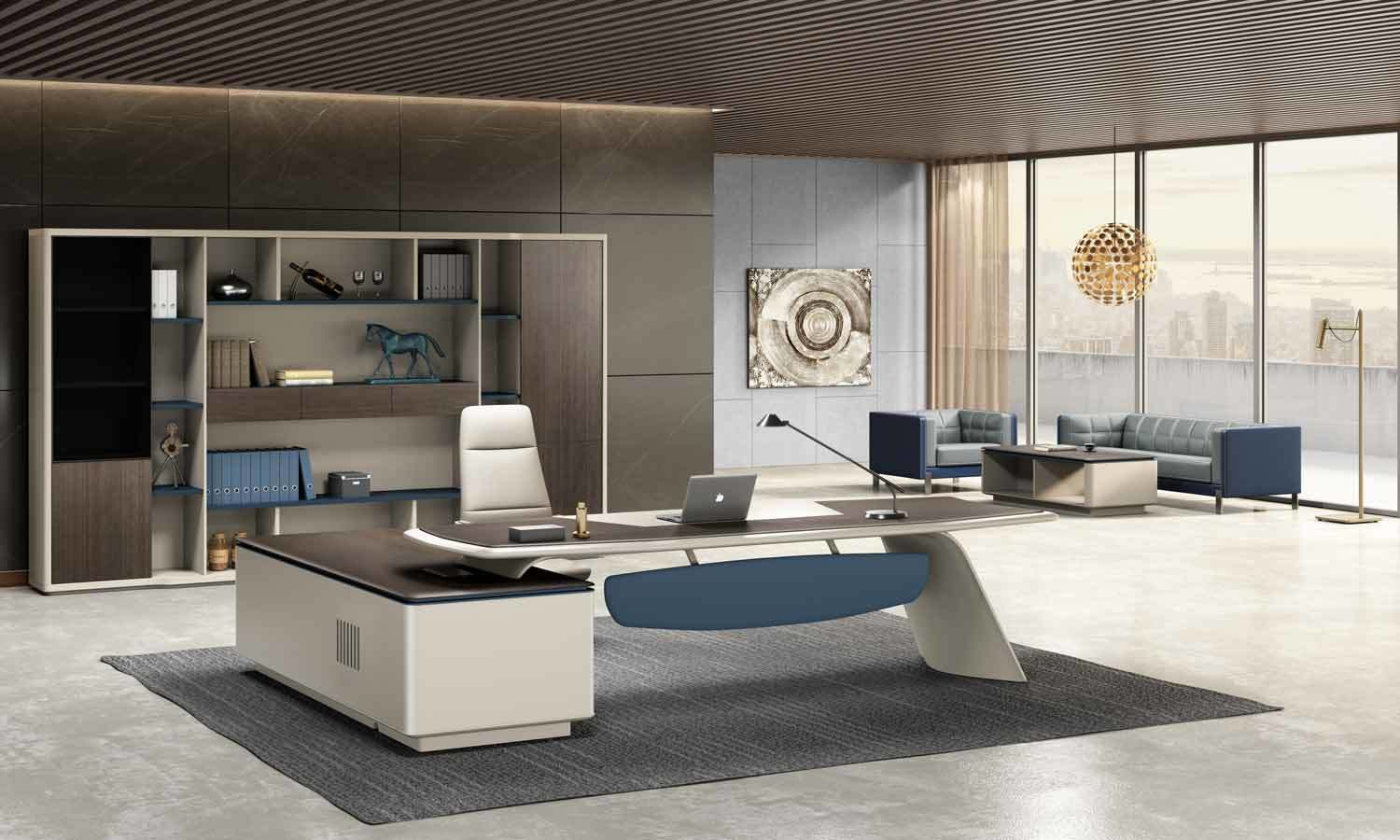 Characteristics Of Wood Office Table By DIOUS Furniture
Highlighting identity: luxury executive desks have a fine design and high-end materials, so that people can see the identity and status of the owner of the table and highlight its high-grade taste.
Increased confidence: luxury executive desks can allow the desk owner to show a more confident and professional image at work, enhance their confidence and influence, and improve the efficiency and quality of work.
Increased comfort: The design and comfort in the human engineering aspect are also focused on the luxury executive desks, which can improve work efficiency and comfort, reduce work fatigue, improve work quality and efficiency.
Enhanced desktop practicality: The design of the luxury executive desks is more practical, can meet different occasions and needs of use, improve the efficiency and comfort of the desk owner.
Increased desktop storage space: luxury executive desks are more beautifully and practically designed, can provide more space for storage, improve the efficiency and comfort of the desk owner.
Improve the overall aesthetic of the desk: the design of the luxury executive desks is more thoughtful and beautiful, can improve the overall coordination and beauty, enhance the visual effects and artistic value of the table.
A Specific Product Designed By DIOUS Furniture
The designer's aspirations for technological advancements, artistic beauty, and expectations for the future are expressed in the Murphy series. The executive office set is motivational and depicts the perfect existence. The Murphy series offers a wide variety of products, including executive desks in various dimensions, file cabinets, coffee tables, couches, and seats.
The general layout is roomy and useful. complementing colors that are timeless and gorgeous, huge storage space.
The Murphy series desk is the executive's first pick since it works in all types of administrative office space.
It wonderfully conveys all the goodwill of the design idea with a smooth touch, visual delight of the luxurious texture of the wood veneer, and tenderly arc-designed table edge. A high-end executive desk reflects a high-end mindset in the workplace.
Conclusion
Service team in DIOUS Furniture is very professional and can provide you with thoughtful service. We provide fast logistics distribution and installation services, allowing you to enjoy the high-quality services we provide in the shortest possible time. We also provide after-sales service, so that you can buy our furniture products without any worries. Whether you are a personal office or a corporate office, we are able to provide you with high-quality luxury executive desk solutions. Choose us to make your office environment more comfortable, noble and luxurious! DIOUS Furniture is a reliable furniture manufacturer, wholesale office furniture, accept Original Equipment Manufacturer and Custom Service.
What Can We Do for You

ODM & OEM

Customization

Fast Delivery from Stock

CAD Layout & Rendering
No.422, Jin'ou Road, Jianghai District, Jiangmen City, Guangdong, China
Follow Us