Modern I Shaped Executive Desk: Both Aesthetic And Practical Choice For You
Modern I shaped executive desk is a stylish and functional office furniture, it not only has a minimalist design, but also can add a modern touch to your office. Now, we have launched a series of high-quality modern I shaped executive desk to provide you with a comfortable, practical and stylish office experience.
Modern I shaped executive desk by DIOUS Furniture adopts high-quality materials and craftsmanship, combined with ergonomics, to create office furniture for you that suits your physical characteristics and work needs. We pay attention to detail processing, from table top to edge to hardware accessories, to make your modern I shaped executive desk more perfect. Our design team is also very professional and can provide you with various design solutions to make your desk more personalized and modern.
Characteristics Of Modern I Shaped Executive Desk By DIOUS Furniture
High spatial utilization: the design of the modern I shaped executive desk uses straight lines, which can effectively utilize space, improve space utilization, and meet the use of different occasions and needs.
Simplicity of atmosphere: the design of the modern I shaped executive desk is simple atmosphere, which can improve the overall coordination and beauty, enhance the visual effects and artistic value of the table.
Stable and reliable: modern I shaped executive desk uses high strength materials and professional manufacturing processes, quality is guaranteed, long service life, not easy to damage, more stable and trustworthy.
Maintenance convenience: modern I shaped executive desk is also more convenient in maintenance and maintenance, and does not need to spend too much time and effort, which can reduce maintenance costs and work pressure.
Personalization: the design of the modern I shaped executive desk can be personalized and customized, to meet the needs of different people, can a different personalized design.
Modern I shaped executive desk in materials and production process also pay attention to environmental protection and energy conservation, can reduce the impact on the environment, more in line with the pursuit and requirements of modern people to the environment.
A Specific Product Designed By DIOUS Furniture
With its exquisite design and lovely color choices, the Tinlay series, which embodies humanism, practicability, and beauty, enhances the beauty, efficiency, and class of our workstation.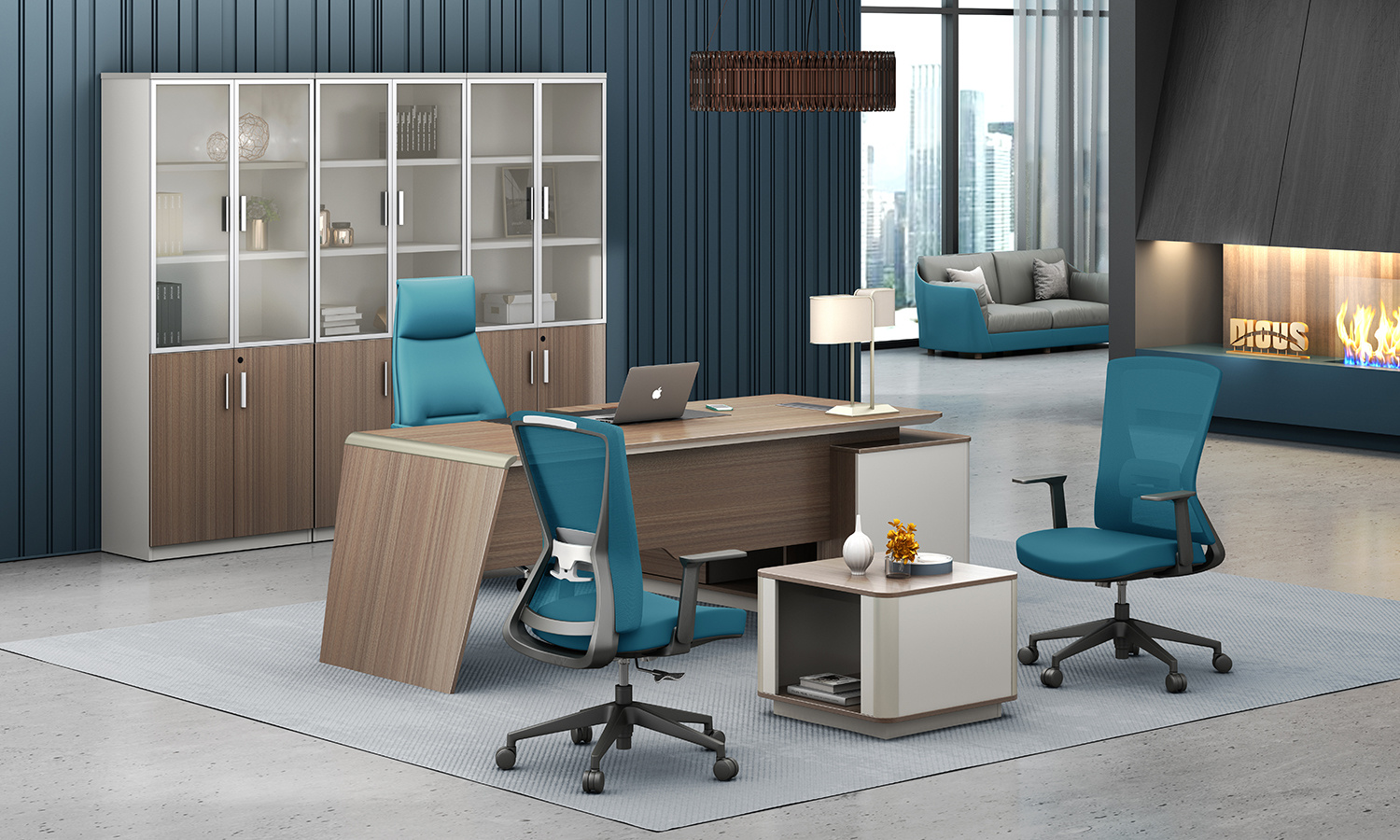 Tinlay's private office investigates the use of Italian aesthetics and draws visitors in with its ergonomics and high level of productivity.
Tinlay features a gorgeous layered table top and side extension construction. Its wire box is aluminum black, giving off a metallic and plush feeling while still being useful and attractive by hiding the wires inside.
Users' varying needs for document storage and display functionality are met by a combination of open storage areas without doors and enclosed ones. A password-locked drawer with a human-centered design is respectful of such confidential papers and frees users from maintaining keys.
Conclusion
Service team in DIOUS Furniture is also very professional and can provide you with thoughtful service. We provide fast logistics distribution and installation services, allowing you to enjoy the high-quality services we provide in the shortest possible time. We also provide after-sales service, so that you can buy our furniture products without any worries.
Whether you have a personal office or a corporate office, we are able to provide you with high quality modern I-shape executive desk solutions. Choose us to make your office environment more comfortable, fashionable and practical! DIOUS Furniture is a reliable furniture manufacturer, wholesale office furniture, accept Original Equipment Manufacturer and Custom Service.
What Can We Do for You

ODM & OEM

Customization

Fast Delivery from Stock

CAD Layout & Rendering
No.422, Jin'ou Road, Jianghai District, Jiangmen City, Guangdong, China
Follow Us