Office Cupboard Wooden: Make Your Documents Be Trapped In Woody Fragrance
Office cupboard wooden is office storage furniture made of wood as the main material, mainly used to store documents, tools, books, office supplies, etc. Office cupboard wooden is usually composed of one or more drawers and closet doors, each of which has a large storage space and can meet different storage needs. The appearance and design styles of office cupboard wooden are diverse and can be selected according to different needs and occasions.
DIOUS Furniture is a reliable furniture manufacturer, wholesale office furniture, accept Original Equipment Manufacturer and Custom Service.
Characteristics Of Office Cupboard Wooden By DIOUS Furniture
Elegant Atmosphere: the natural texture and color of wood gives the office cupboard wooden an elegant atmosphere, adding a natural and welcoming to the office environment.
Strong durability: office cupboard wooden is made of natural wood or high-quality wood composite materials, have strong durability, are not easily damaged, deformed or aged, and have a long service life.
Healthy and environmental protection: wood is a natural material, does not contain harmful substances, and office cupboard wooden in the production process also uses environmentally friendly processes and materials to use more healthy, environmentally-friendly and safe.
Color richness: the natural texture and color of wood, making the color of office cupboard wooden more rich, a variety of options, can meet different styles and needs of office decoration.
Simple maintenance: the surface of the office cupboard wooden has been treated, can be resistant to moisture, heat, pollution, cleaning and maintenance is also relatively simple, can reduce office maintenance costs and work pressure.
Style diversity: office cupboard wooden is suitable for different office styles, such as classic, modern, simple, etc., can meet the needs of different users, improve the beauty and practicality.
Strong plasticity: wood has strong plasticity, can according to different design needs, make different shapes, sizes and styles of office cabinets, to meet different needs and functions.
A Specific Product Designed By DIOUS Furniture
Modern edge-cutting methods are used in the executive desk to demonstrate the desire for flawless design in every aspect. It is a display of design style, status symbol, and domatic geometrical aesthetics with significant features for company executive office space demands.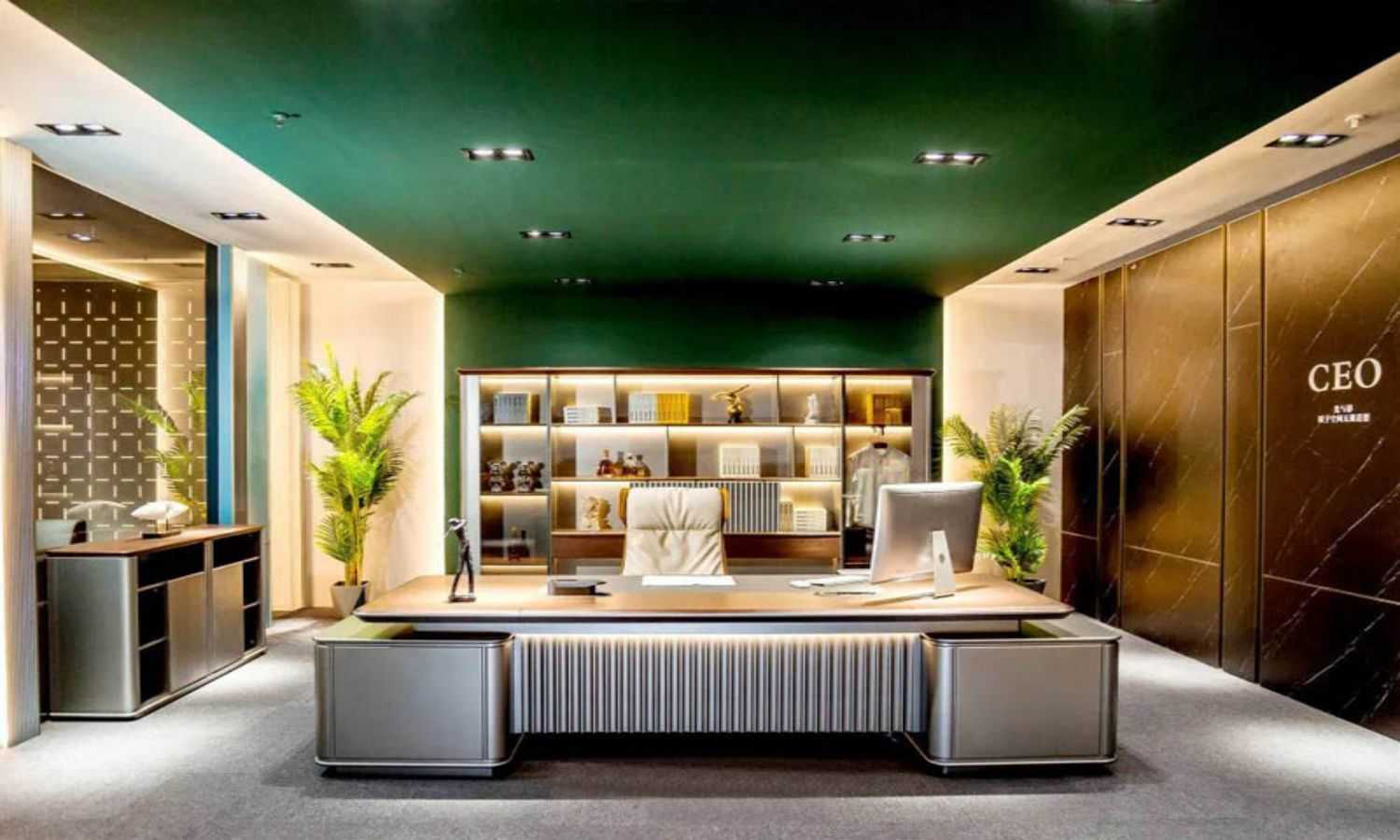 With an eco-friendly natural walnut veneer and painting finish, the storage is clean-lined and ideal for contemporary executive environments.
The file cabinet is more lively and trendy thanks to the blue board and line between the doors that were employed in the design. Depending on the needs of the user, filing cabinets come in a variety of sizes.
Conclusion
The advantages of office cupboard wooden by DIOUS Furniture is that they are more beautiful and decorative, but also have a higher service life and durability. In addition, wood office cabins can also be customized according to customer needs, such as adding multiple drawers, cabinet doors, changing colors and sizes, etc., to meet different use needs. Wood office cabinet is a very practical office furniture that can provide high-quality service to your office, making your office work more efficient, convenient and comfortable.
What Can We Do for You

ODM & OEM

Customization

Fast Delivery from Stock

CAD Layout & Rendering
No.422, Jin'ou Road, Jianghai District, Jiangmen City, Guangdong, China
Follow Us