White Executive Desk: Brighten Your Attendance Time Intangibly
White executive desk is a type of desk that is typically used in the office or conference room of senior managers. It is characterized by its simplicity, brightness and nobleness, and usually uses white as the main shade, combined with auxiliary shades such as silver, gold or wood, to show a simple, fashionable style. White executive desk is usually large and can provide enough work space to allow senior management to work comfortably.
DIOUS Furniture is a reliable furniture manufacturer, wholesale office furniture, accept Original Equipment Manufacturer and Custom Service.
Characteristics Of White Executive Desk By DIOUS Furniture
Fashion Simplicity: white executive desk has a pure, simple sense of fashion, can enhance the image and atmosphere of the company.
Noble: white executive desk appears noble and elegant throughout the office, can leave a good impression and enhance the image of the company.
Space: white executive desk can create a spacious, bright office environment, which helps to improve the efficiency and comfort of employees.
Color coordination: white is a neutral color, can be combined with other colors of furniture, decoration, does not produce color conflict with other elements, keep the overall coordination and beauty.
Clean: white executive desk color is bright, dirt and dust are not easily visible, easy to clean and maintain, and keep clean and hygienic.
Wide application: white executive desk is suitable for different styles of office, can be well combined with modern simple style or traditional European style, to the overall sense of unity and coordination.
A Specific Product Designed By DIOUS Furniture
The elegant and meticulously made Milano Series are influenced by contemporary geometry. This set features two different styles of table legs—rectangular and U-shaped—as well as a range of color choices, which you may mix and match as you see fit. To properly fulfill all the needs of the user's workplace, the Milano series includes executive desks, conference tables, file cabinets, modular workstations, mobile pedestals, etc.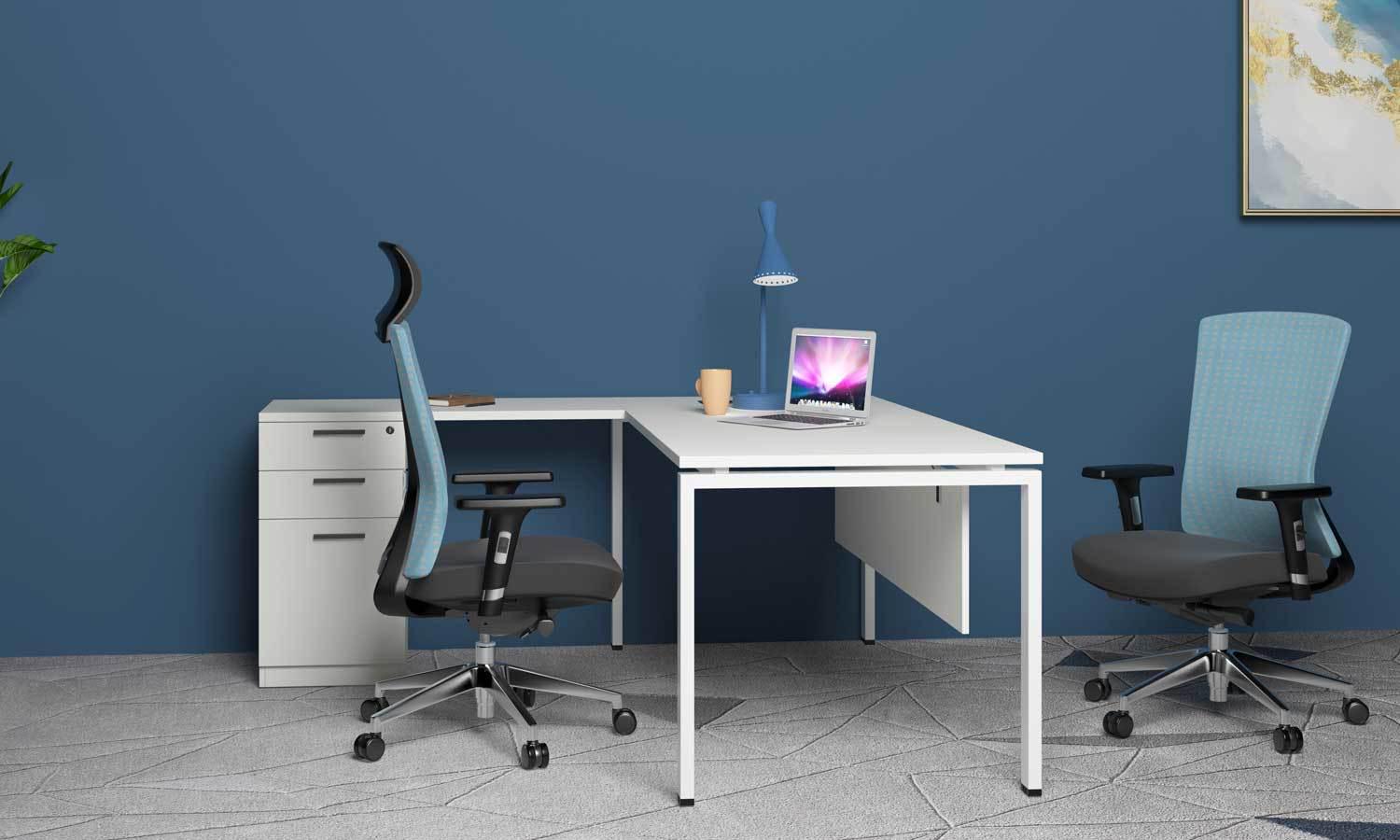 With white on the surface and coated legs, the Milano executive desk offers a nice visual experience, is practical, and is appropriate for all types of office environments. The two different leg shapes are classy and useful for an office setting nowadays.
With its many configuration possibilities, Milano is highly adaptable to various workplace settings. The desktop comes with a custom-made metal box that has been shaped to exactly fit the user's charging requirements.
Users have adequate room to put their own belongings and documents on movable pedestals.Aluminum knobs on the lockable drawers make it simple to open and close them.
Conclusion
By offering comprehensive solutions based on a variety of standard items and specialized options, DIOUS Furniture is dedicated to helping customers create pleasant, environmentally friendly workspaces. We offer a wide variety of products and services to many businesses all around the world. The significant portion of our attentive and committed staff is just one of the many benefits of our exceptional design.
What Can We Do for You

ODM & OEM

Customization

Fast Delivery from Stock

CAD Layout & Rendering
No.422, Jin'ou Road, Jianghai District, Jiangmen City, Guangdong, China
Follow Us