Wood Office Table: Add Seriousness To Your Conference
DIOUS Furniture is a reliable furniture manufacturer, wholesale office furniture, accept Original Equipment Manufacturer and Custom Service.
Wood office table is a classic and fashionable office furniture that not only has a natural beauty but also adds a pleasant atmosphere to your office. Now we have a range of high-quality wood office tables to provide you with a high quality, beautiful and comfortable office experience. Our wood office tables are made of high quality natural wood, made through fine processes. We pay attention to detail, from the selection of wood to the processing of wood patterns, are rigorous and make your wooden table more perfect. Our design team is also very professional and can offer you a variety of different design solutions to make your desk more personalized.
Characteristics Of Wood Office Table By DIOUS Furniture
Personalization: wood office table can be designed and customized according to the personal or corporate needs and preferences, can be personalised and tailored to meet the needs of different people.
Environmental protection: wood is a natural material, more environmentally friendly than other materials, can reduce pollution and damage to the environment, more compliant with environmental protection requirements.
Quality assurance: wood office table uses professional design and production technology, quality is guaranteed, long service life, not easy to damage, more stable and reliable.
Esthetic: the wood material is softened, the wood texture is natural and beautiful, the custom wooden desk can show a unique beauty, improve the overall coordination and beauty.
Comfort: wood office table can also be customized and designed in human engineering, which can improve work efficiency and comfort, reduce work fatigue, improve work quality and efficiency.
Ease of Maintenance: wood office table can be customized and designed to make the wooden office desk easier to maintain and maintain, reducing maintenance costs and working pressure.
A Specific Product Designed By DIOUS Furniture
A 2.4-meter executive desk from the Chicago line was just introduced, introducing a brand-new idea in executive desk office furniture. This executive desk creates a personal private office as well as an effective and practical collaboration area, addressing the dual demands of users for working at side cabinet and simultaneously having guest reception or staff conversation without going to another place.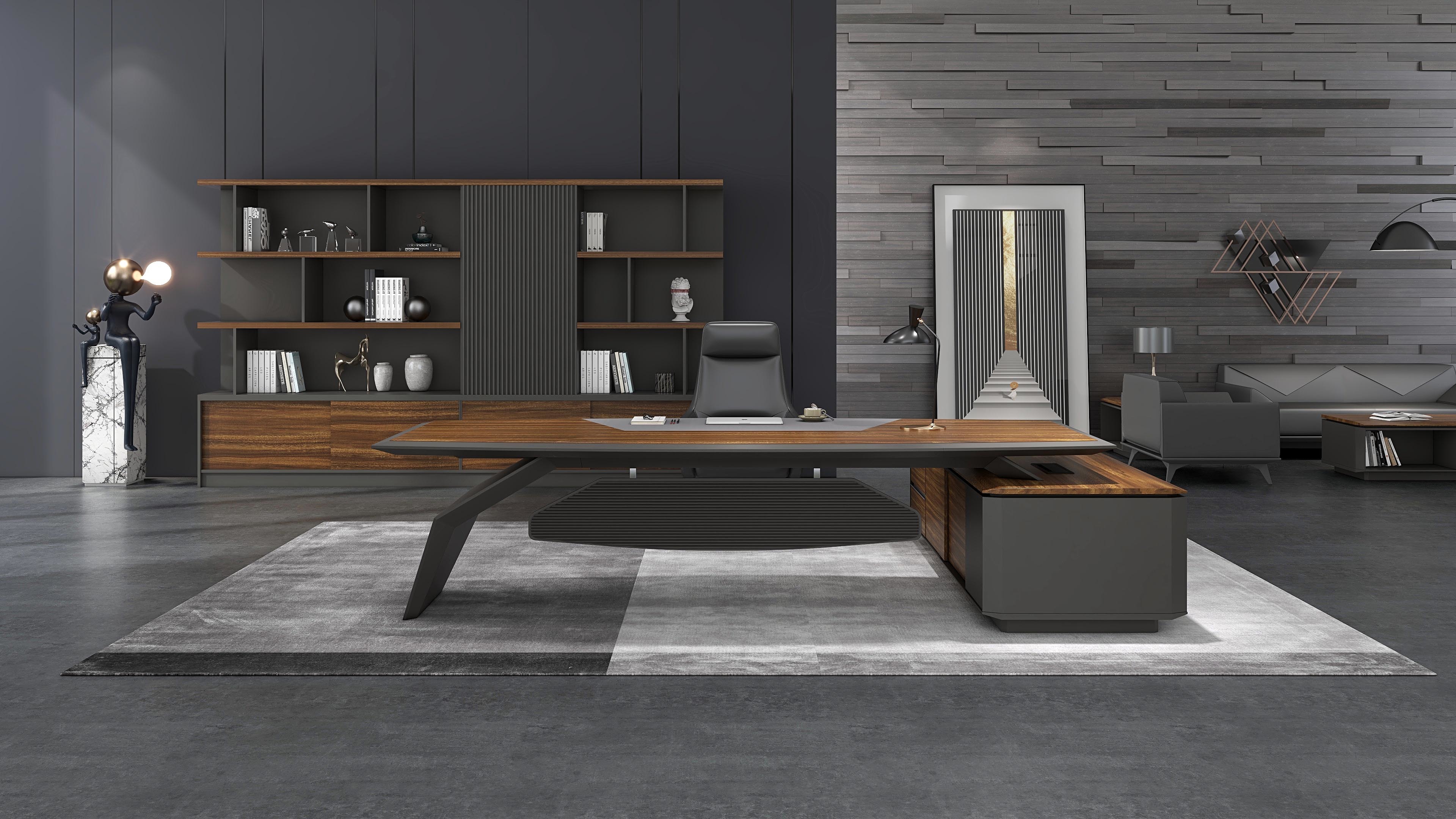 The 2.4-meter executive workstations of the Chicago series break up the monotony of typical desks and focus more on office space usage and productivity. On the seat, users can directly interact with employees or receive customers. In order to save time moving around the workplace, the table top may be utilized as a reception application with enough room to lay out tea and coffee sets.
Workstations at the extension provide a bigger surface space. You may also catch files on file cabinets or on table cabinets more easily. You may put various papers or personal goods in the room's spacious storage sections, which are adaptable, practical, and effective.
The table includes two thoughtfully placed charging wire systems, one for the work extension area and the other for the reception area.
Conclusion
wood office tables by DIOUS Furniture are not only beautiful, but also very functional. Our desks can provide different sizes and functions according to your needs, such as with drawers, computer desktops, bookcases, etc., to meet your different needs. Our desks are also ergonomically designed to provide you with a comfortable working experience and make you more productive.
Our service team is also very professional and can provide you with thoughtful service. We provide fast logistics distribution and installation services, allowing you to enjoy the high-quality services we provide in the shortest possible time. We also provide after-sales service, so that you can buy our furniture products without any worries.
Whether you have a personal office or a corporate office, we are able to provide you with high-quality wooden desk solutions. Choose us to make your office environment more comfortable, beautiful and efficient!
What Can We Do for You

ODM & OEM

Customization

Fast Delivery from Stock

CAD Layout & Rendering
No.422, Jin'ou Road, Jianghai District, Jiangmen City, Guangdong, China
Follow Us