Black Executive Desk: Raise Your Seriousness On Work Intangibly
The black executive desk is also a high-end office furniture, commonly used in the office or conference rooms of senior managers. Compared to the white administration table, the black executive desk is more stable, solemn and suitable for some formal and serious occasions.
DIOUS Furniture is a reliable furniture manufacturer, wholesale office furniture, accept Original Equipment Manufacturer and Custom Service.
Characteristics Of Black Executive Desk By DIOUS Furniture
The black executive desk appears noble and elegant throughout the office, can leave the impression of high-end business and improve the image of the company.
Black is a solid color, black executive desk can make the office look more solemn and stable, which is conducive to the professional image of the company.
Color comparison: black executive desk can contrast with other colors of furniture, decoration, improve the visual effect of the furniture and decor, make the office more level sense.
Atmosphere: the color of the black executive desk is deeper, helps to create the atmosphere of the office, a feeling of thickness, and gives employees a more sense of belonging and identity.
Clean: The color of the black executive desk is stable, dirt and dust are not easily visible, are easy to clean and maintain, and are kept clean and hygienic.
Wide application: black executive desk is suitable for different styles of office, can be well combined with modern simple style or traditional European style, to the overall sense of unity and coordination.
A Specific Product Designed By DIOUS Furniture
The Boyue range of executive office furniture is a representation of Italian simplicity and presents beauty, elegance, and aesthetics. A complete range of desks and storage, a meeting table, a coffee table, a matching office guest chair, and office chairs are all included in this set.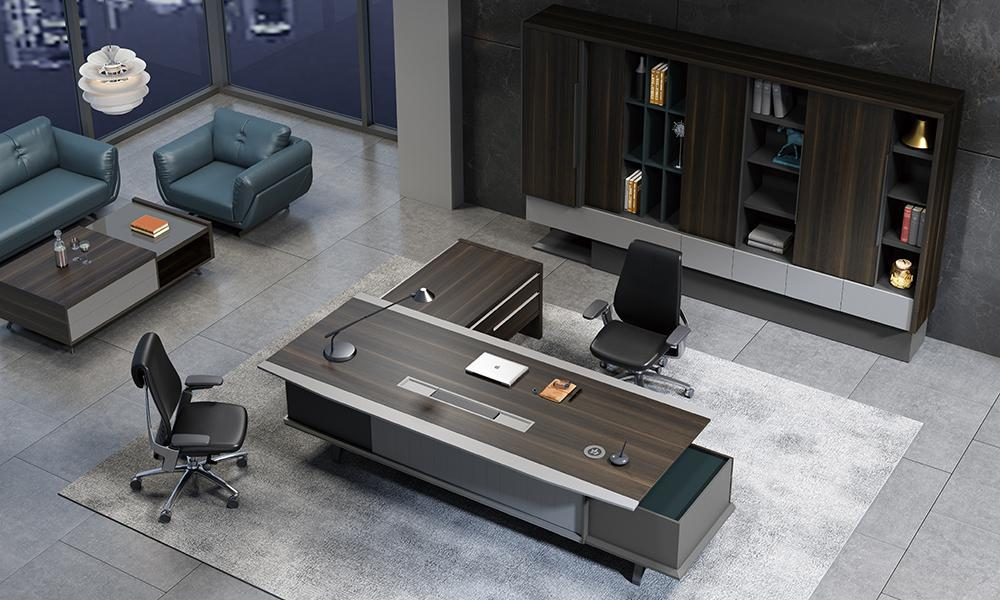 Use a hidden multipurpose modular wire box for an executive table to help manage cables and show off the desk's simplicity.
using high-quality three-fold ball bearing silent slides to enable drawers to open or close quietly.
An exquisite workplace setting is created by combining simple design with fashionable color schemes, which are both inspired by Italian modern design. It offers users a cozy and peaceful sitting experience with high-quality material selections.
Boyue executive table creates a distinctive office area with its geometrically shaped table leg, leather front panel, and usage of high-quality aluminum.
Conclusion
DIOUS Furniture is committed to assisting clients in creating comfortable, eco-friendly workstations by providing comprehensive solutions based on a selection of basic products and specific alternatives. Many businesses all over the world can choose from a wide range of our products and services. One of the several advantages of our great design is the sizeable amount of our attentive and dedicated workforce.
What Can We Do for You

ODM & OEM

Customization

Fast Delivery from Stock

CAD Layout & Rendering
No.422, Jin'ou Road, Jianghai District, Jiangmen City, Guangdong, China
Follow Us