Quality Business Office Furniture Can Stimulate the Creativity And Motivation Of Employees
Practical and aesthetically pleasing business office furniture created by DIOUS Furniture shape the interaction between people and spaces, and the activities between people. Through the different cooperation of business office furniture, we can maximize the individual efforts of each employee and the interaction between people and the space; Develop their limitless potential and enhance the joy of life in the workplace.
DIOUS Furniture is a reliable furniture manufacturer, wholesale office furniture, accept Original Equipment Manufacturer and Custom Service.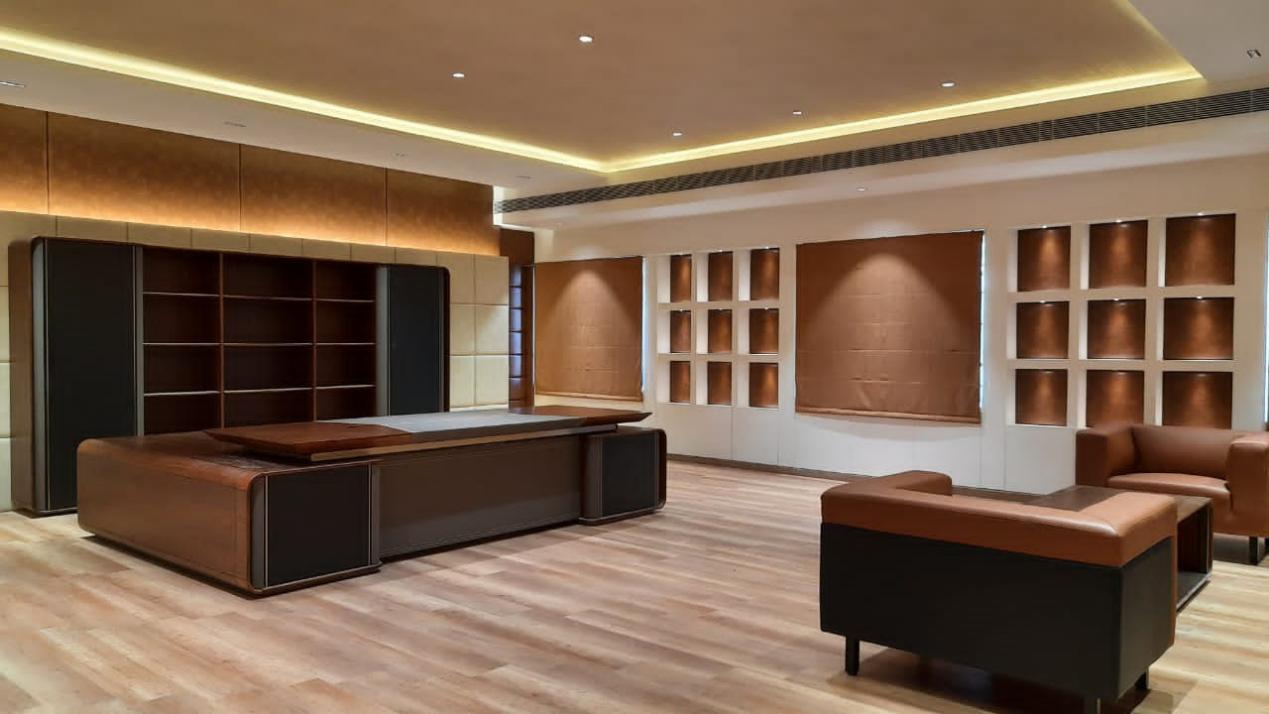 Characteristics Of DIOUS Furniture
DIOUS Furniture uses materials such as solid wood, melamine, veneer, mesh, fabric, and leather to make business office furniture. We have ODM and OEM services, customized design services, rapid delivery of form inventory services, solutions and proposals of CAD layout, and rendering services. Our company's manufacturing factory base covers an area of over 10000 square meters. There is a manufacturing volume of over 10000 sets per month. We have reached agreements with over 3000 global partners and received unanimous praise.
A Specific Project Designed By DIOUS Furniture
In order to make your workstation more fun and motivate your team to achieve, we offer business office furniture options for the executive office space at Olive Tree Global Education Campus. These solutions include the Poetry Series, which combines aesthetics and modernity in a dark brown tone that serves as the room's primary color.
A vintage Poetry series office guest chair set greets you at the office. It is a great choice whether you are hosting guests or negotiating because the room is completely lit by pleasant yellow light. Moving on to the executive desk, it has a stunning design because to the way it integrates vertical features with simple lines. Modern offices can be functionally set up with concealed wiring to accommodate various workplace requirements. The picture below is a real photo of the time.
Olive Tree Global Education Campus employees can benefit from a more innovative work environment thanks to contemporary and adaptable executive office solutions.
Please get in touch with us if you're interested in designing an office environment that fosters creativity and productivity.
Conclusion
DIOUS Furniture is committed to creating green and comfortable office spaces for customers by providing comprehensive solutions based on a wide range of products and customized solutions. We provide a comprehensive range of products and solutions for various workplaces worldwide. A large part of our energetic and patient staff also benefits from our exquisite design.
What Can We Do for You

ODM & OEM

Customization

Fast Delivery from Stock

CAD Layout & Rendering
No.422, Jin'ou Road, Jianghai District, Jiangmen City, Guangdong, China
Follow Us