File Cabinet With Lock: Keep Your Important Documents Clean And Tidy
The file cabinet with lock is a modern office furniture, mainly used to store various documents, tools, books and other items. File cabinet with lock is usually composed of one or more drawers, each drawer is equipped with a lock head, which can ensure the safety of the items stored. The file cabinet with lock is usually made from high-quality materials, such as solid steel and environmentally friendly wood, with high durability and life.
DIOUS Furniture is a reliable furniture manufacturer, wholesale office furniture, accept Original Equipment Manufacturer and Custom Service.
Characteristics Of File Cabinet With Lock By DIOUS Furniture
Good confidentiality: file cabinet with lock provides better confidence, prevents sensitive files from being accessed by unauthorized persons, and ensures the security of company or individual information.
High security: file cabinet with lock can improve the security of documents, prevent documents from being stolen or lost, and safeguard the legitimate rights and interests of companies or individuals.
High cleanliness: file cabinet with lock can make the file archive more well-ordered, avoid the confusion and intersection of the document, and improve the cleanlinedom and aesthetic of the file.
Easy to manage: file cabinet with lock makes the management of documents more convenient and efficient, avoids the loss and omission of documents, and improves the efficiency and accuracy of work.
Powerful versatility: file cabinet with lock can be used to store different types and sizes of files, such as A4, A3, etc., for different occasions and needs of file management, increasing the versatilities and flexibility.
Strong durability: file cabinet with lock uses high strength materials and professional manufacturing processes, quality is guaranteed, long service life, not easy to damage, more stable and reliable.
Maintenance convenience: file cabinet with lock is also more convenient in maintenance and maintenance, and does not require too much time and effort, which can reduce maintenance costs and work pressure.
A Specific Product Designed By DIOUS Furniture
The elegant and painstakingly made Milano Series are influenced by contemporary geometry. There are two different styles of table legs available in this series, and you can choose from a wide range of color combinations. To properly fulfill all of the demands of the user's office, Milano is furnished with executive desks, staff desks, conference tables, file cabinets, modular workstations, mobile bases, etc.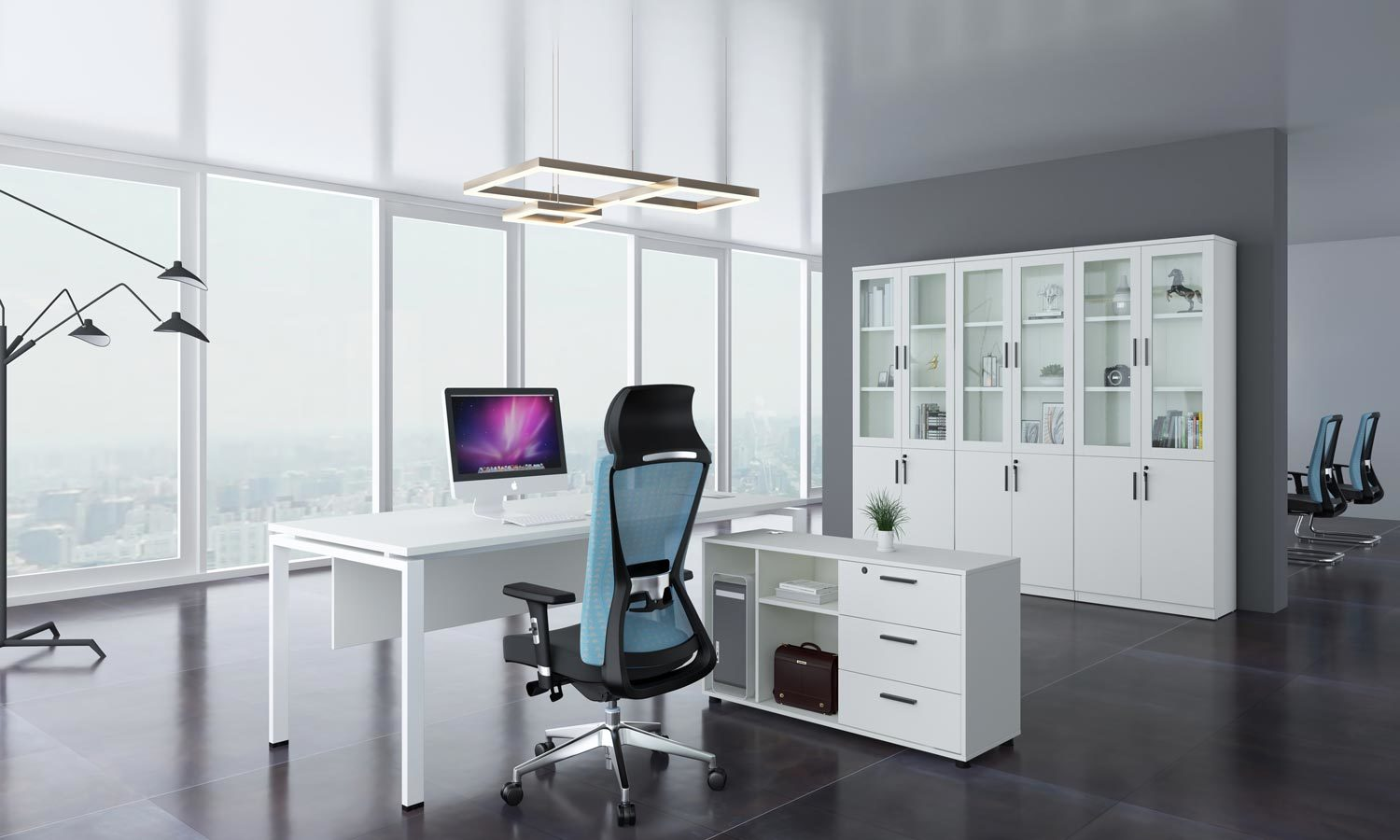 The area is efficiently divided into a number of tiny partitions with private and public storage functions by Milano's series of file cabinets, which can suit the storage requirements of various users.
Swinging glass doors on file cabinets have soft-close hinges, which means that if you pull or push on an open door while it is still open, the door will automatically close the remaining distance. This feature can be changed on specific hinge choices so that the speed may be managed.
With the Milano Series, you have a wide range of alternatives to personalize your office, including two types of legged executive and conference tables, coffee tables, side file cabinets, tall file cabinets with glass doors, and mobile bases.
Conclusion
The file cabinet with lock by DIOUS Furniture protects the confidentiality of files and items, prevents unauthorized people from accessing the storage content, and also avoids the loss of documents and items. In addition, the file cabinet with lock can also be customized according to customer needs, such as adding multiple drawers, equipped with slides, changing colors and sizes, etc., to meet different use needs. The file cabinet with lock is a very practical office furniture that can provide high-quality service to your office or conference room, making your office work more efficient, convenient and safe.
What Can We Do for You

ODM & OEM

Customization

Fast Delivery from Stock

CAD Layout & Rendering
No.422, Jin'ou Road, Jianghai District, Jiangmen City, Guangdong, China
Follow Us