Mobile File Cabinet: Make The Movement More Convenient
A mobile file cabinet is an office furniture that is easy to move and store files, mainly used in offices, libraries, archives and other places. Mobile file cabinet is usually made up of multiple drawers, each of which has a large storage space to meet different storage needs. The advantage of a mobile file cabinet is that it can be easily moved and fixed, can be moved and disposed of at any time according to the occasion and needs, while saving office space.
DIOUS Furniture is a reliable furniture manufacturer, wholesale office furniture, accept Original Equipment Manufacturer and Custom Service.
Characteristics Of Mobile File Cabinet By DIOUS Furniture
High space utilization: since these cabins are often sized for height or breadth rather than length or width, mobile file cabinets can make greater use of small spaces by being positioned in corners or along walls.
Simple to move: the name of mobile file cabinet implies that they are simple to relocate without tearing down or reinstalling. Moving archives around the office or between rooms are now simpler as a result.
High security: to safeguard the security of documents and other valuables, mobile file cabinet is typically outfitted with locks and other security elements.In addition to protecting secrecy and privacy, this may stop information from leaking out and things from becoming lost.
Effective administration and organization: mobile file cabinet may assist manage and organize documents and items, making them simpler to access and locate.This improves productivity and efficiency at work while decreasing wastage of time and resources.
Strong customizability: mobile file cabinet may be tailored to the user's requirements and the available space. This allows it to accommodate various users' demands and functions while also improving flexibility and user comfort.
Saving money: By using mobile file cabinets, you may utilize less office space and avoid renting or purchasing new space. Mobile file cabinets may also save energy and time waste, boost productivity, and enhance cost savings.
Simple operation, a flexible switch, and the ability to swiftly and easily retrieve objects all contribute to the user-friendliness of mobile file cabinet. This increases workplace productivity.
A Specific Product Designed By DIOUS Furniture
The Vegas series, with its minimalist and pragmatic design, satisfies the requirement for user-friendliness in the contemporary workplace. This product has a distinctive and pleasing touch thanks to the metallic brush pattern on the silver aluminum ornamental trim on the BMW grey melamine face chipboard.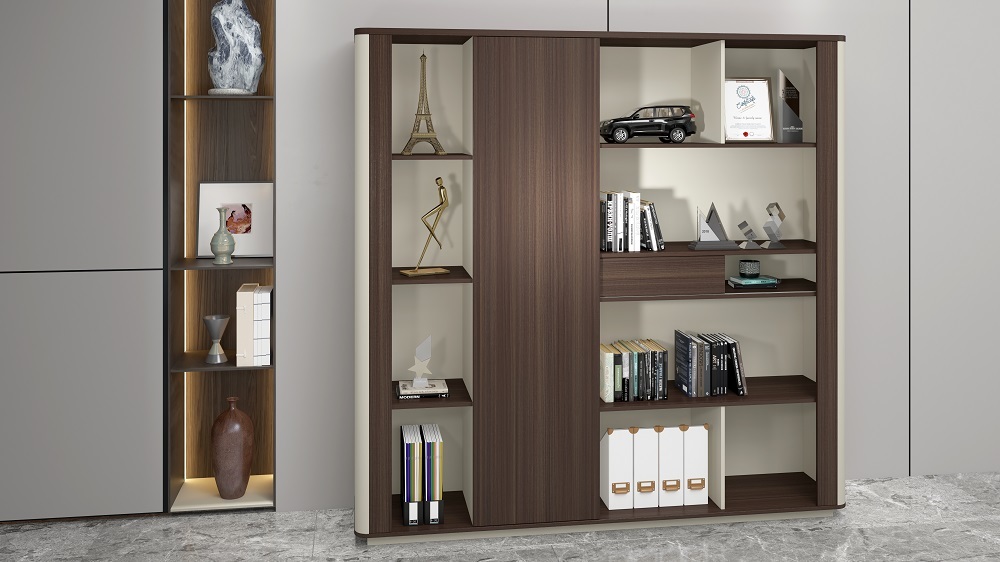 Vegas Cabinets included a number of potent features to meet the diverse demands of people. Based on their current demands, users may personalize their workplace and adjust it when those needs change.
Vegas cabinets consider the user's actual needs and are separated into a number of useful areas, each with a set of requirements: clothing, collections, papers, personal belongings, rewards, and artwork. Low cabinets and file cabinets let you arrange your rooms for maximum adaptability.
Conclusion
The bottom of the mobile file cabinet by DIOUS Furniture is equipped with slides and wheels, which can be easily moved and can also be fixed to ensure the security of documents and items. In addition, the mobile file cabinet can be customized according to customer needs, such as adding multiple drawers, changing colors and sizes, etc. To meet different use needs. The mobile file Cabinet is a very practical office furniture that can provide high-quality service to your office, making your office work more efficient, convenient and comfortable.
What Can We Do for You

ODM & OEM

Customization

Fast Delivery from Stock

CAD Layout & Rendering
No.422, Jin'ou Road, Jianghai District, Jiangmen City, Guangdong, China
Follow Us