Modular Desk Furniture: Why Not Get Away From Ponderous Fixed Table Right Now
DIOUS Furniture is a reliable furniture manufacturer, wholesale office furniture, accept Original Equipment Manufacturer and Custom Service.
Modular desk furniture means desks that can be combined freely and are mainly used in offices, schools, libraries and other places. It is usually composed of multiple unit modules, and each unit module can be used alone or freely combined into desks of different shapes and sizes.
The advantage of modular desk furniture is that they can be combined and adjusted according to different usage needs and space sizes, and can flexibly meet the needs of different users.
At the same time, the design styles and colors of modular desk furniture is also varied, which can be selected according to different occasions and user preferences.
In addition, modular desk furniture can also be customized according to customer needs, such as adding multiple unit modules, changing colors and sizes, etc., to meet different usage needs. modular desk furniture is a very practical office furniture that can provide users with high-quality services and make your office work more efficient, convenient and comfortable.
Characteristics Of modular desk furniture furniture Furniture By DIOUS Furniture
Flexibility: modular desk furniture can be flexibly combined and disassembled according to the needs, facilitating the layout of the office and the use of space, and can also be personalized according to different needs of employees.
Scalability: modular desk furniture is scaled according to the company's expansion needs, avoiding the waste of replacing the desk due to the increase in the number of people.
Comfort: modular desk furniture can provide a comfortable experience of use, for example, the height of the table should be suitable for the staff's height, can avoid fatigue and pressure of parts of the cervical vertebrae, lumbar.
Spatial: modular desk furniture has enough space to place computers, monitors, keyboards, mice and other devices, and there should also be a certain storage space to store documents, tools and other items.
Stability: modular desk furniture has sufficient stability to maintain balance during use, avoiding safety accidents caused by instability.
Aesthetics: modular desk furniture with a sense of aesthetic, fashionable and modern, can enhance the overall image and atmosphere of the office, so that employees have a better work experience and mood.
Environmental: The materials of modular desk furniture meet environmental standards and can reduce the pollution on the environment and the impact on the health of employees.
A Specific Product Designed By DIOUS Furniture
The dynamic frame of the Lambo panel system enables you to alter your space as your needs alter. It offers broad support for both collaborative environments and individual workstations. Storage integration offers flexible possibilities for numerous pairings.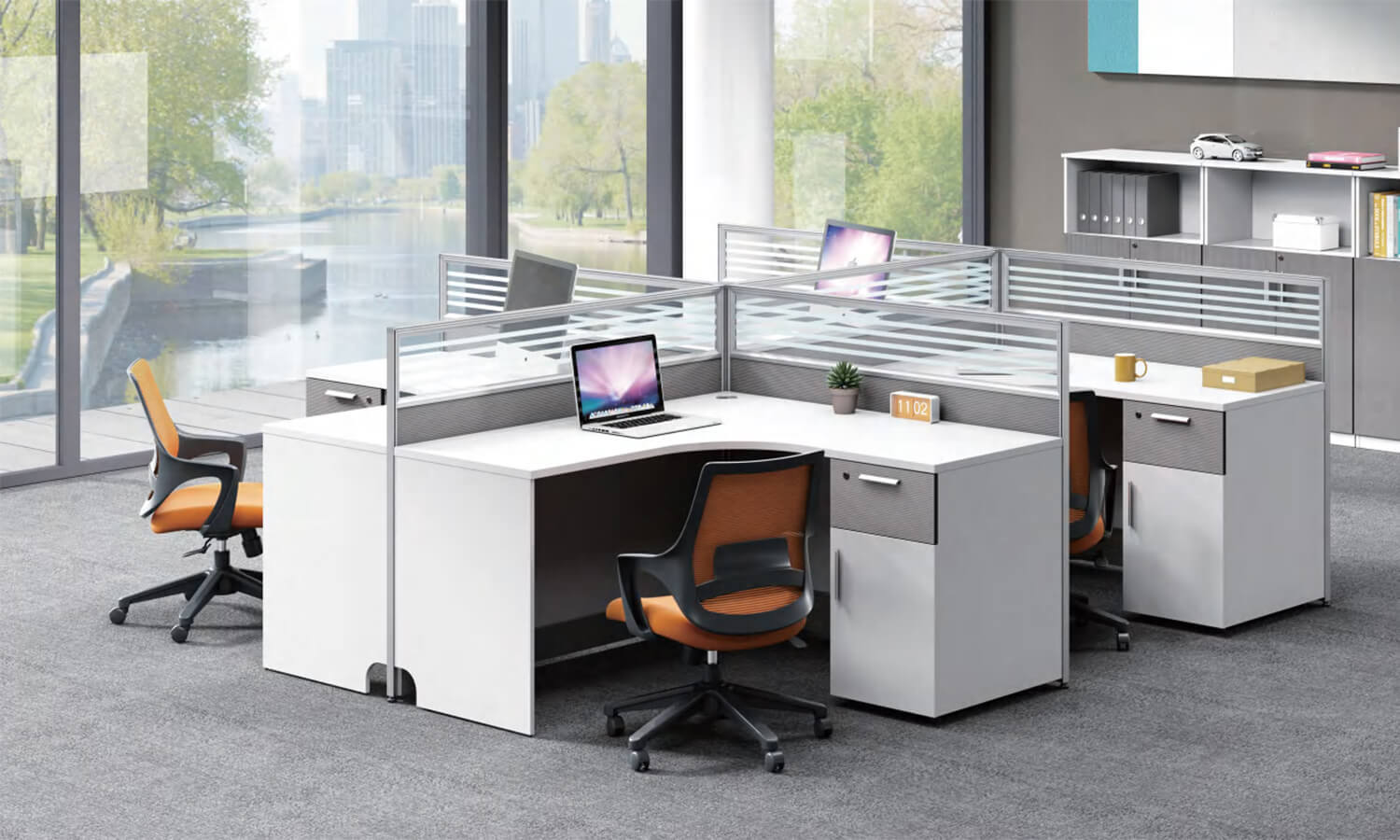 The Lambo line defies convention by fusing classic and modern design elements, supporting a multitude of accessory combinations, displaying multifaceted, all-around efficacy, and showcasing its distinctive appeal in the workplace.
Lambo is strong in its adaptable designs for a variety of uses.We developed the "F" shape panel system with more than 1-meter-high side cabinets to meet the high demands for storage and privacy from the finance and personnel workers, ensuring both ample storage and good private space. The "F"-shaped modular workstation can be freely integrated and expanded to meet user needs. To increase storage capacity, mobile pedestals can also be installed.
The Lambo series aids in effectively managing the cabling system and dividing the space. Panels are available in a range of thicknesses, can be joined or used separately, and users can change them as needed depending on the office setting, making them suited for a number of office applications.
Conclusion
By offering comprehensive solutions based on a variety of standard items and specialized options, DIOUS Furniture is dedicated to helping customers create pleasant, environmentally friendly workspaces. We offer a wide variety of products and services to many businesses all around the world. We benefit much from our exceptional design, including a sizable chunk of our diligent and attentive staff. DIOUS Furniture is a reliable furniture manufacturer, wholesale office furniture, accept Original Equipment Manufacturer and Custom Service.
What Can We Do for You

ODM & OEM

Customization

Fast Delivery from Stock

CAD Layout & Rendering
No.422, Jin'ou Road, Jianghai District, Jiangmen City, Guangdong, China
Follow Us