Office Cupboard Storage: Ease The Burden Of Your Office Table
A office cupboard storage is a piece of office equipment created for use in business settings and is mostly used for storing various papers, tools, books, and other goods. Office cupboard storage typically consists of one or more drawers, each of which has a greater storage area and may accommodate various storage requirements.
DIOUS Furniture is a reliable furniture manufacturer, wholesale office furniture, accept Original Equipment Manufacturer and Custom Service.
Characteristics Of Office Cupboard Storage By DIOUS Furniture
Large storage space: the design of office cupboard storage thoroughly considers the storage requirements of documents and objects; the interior space is allotted properly, allowing for the maximization of file and item storage while also enhancing storage efficiency and capacity.
High security: security tools like keys are included in office cupboard storage to safeguard the privacy of data and things, as well as to stop information leaking and item theft.
Strong durability: office cupboard storage is made of high-quality, long-lasting materials, and the manufacturing process was done correctly. It can survive usage and time, has a long lifespan, and is difficult to damage.
The operation is straightforward, the switch is adaptable, it can simply and quickly access the things, improving the productivity of work. The design of office cupboard storage takes into consideration the usage patterns and demands of the staff.
High beauty: the design of office cupboard storage offers a stylish touch to the workplace with their basic style design and lovely form.
Office cupboard storage is suited for a variety of individuals and applications, increasing their adaptability and flexibility. They may be used for office, study, home, and other occasions and needs.
Office cupboard storages are handy for maintenance, need little time and effort, may save maintenance expenses and work strain, and are easy to maintain.
Office cupboard storages with sealing and moisture-proof designs may keep items dry, clean, and free from dust, which improves the things' ability to be preserved.
A Specific Product Designed By DIOUS Furniture
Shiyi is a functional executive area that successfully combines traditional and contemporary aesthetics with symmetrical beauty. A quiet and opulent workspace is made possible by the whole range of goods in this series, which include a desk, file cabinet, conference table, executive chair, and couches. Shiyi series, which draws its inspiration from angel wings, promotes wealth and talent growth while attempting to advance and daring to suffer in order to embrace the future.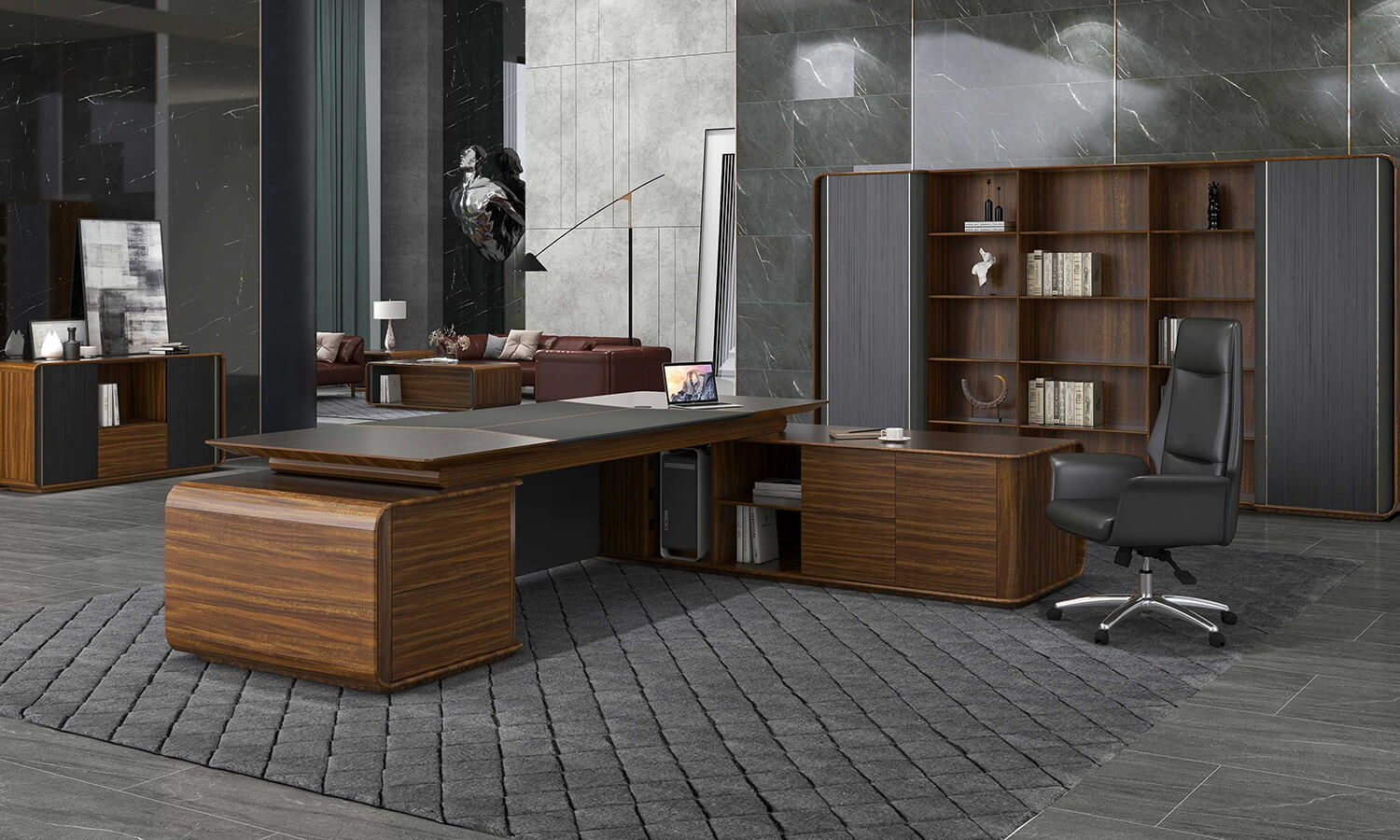 The cabinet swing door's two sides are covered with black wire drawing plates, which are paired with champagne stainless steel wire drawing and light gray leather, expressing the humanized design idea and emphasizing the noble temperament. The corner is built with a circular arc.
Open storage areas may be utilized to keep a lot of books and documents for quick access, as well as to show previous awards and certificates. This increases productivity.
Filing cabinets have open storage, swinging doors, and closets.There are several variants to accommodate your various storage requirements.
Conclusion
The advantages of office cupboard storages by DIOUS Furniture are the ability to effectively manage and protect documents and items, avoid the loss and damage of documents and objects, while improving the efficiency of work. In addition, the commercial cabinet can also be customized according to customer needs, such as adding multiple drawers, equipped with slides, changing colors and sizes, etc., to meet different use needs. Business cabinet is a very practical office furniture that can provide high-quality service to your business place, making your office work more efficient, convenient and safe.
What Can We Do for You

ODM & OEM

Customization

Fast Delivery from Stock

CAD Layout & Rendering
No.422, Jin'ou Road, Jianghai District, Jiangmen City, Guangdong, China
Follow Us