Transform Your Executive Office with DIOUS Furniture's Muchi Series
Create a captivating and refined executive office space with the Muchi series, an exquisite collection of office furniture executive desks by DIOUS Furniture. Designed to cater to leaders and elites, this light luxury paint series offers a perfect blend of architectural and sculptural aesthetics, elevating your workspace to new heights of elegance and sophistication.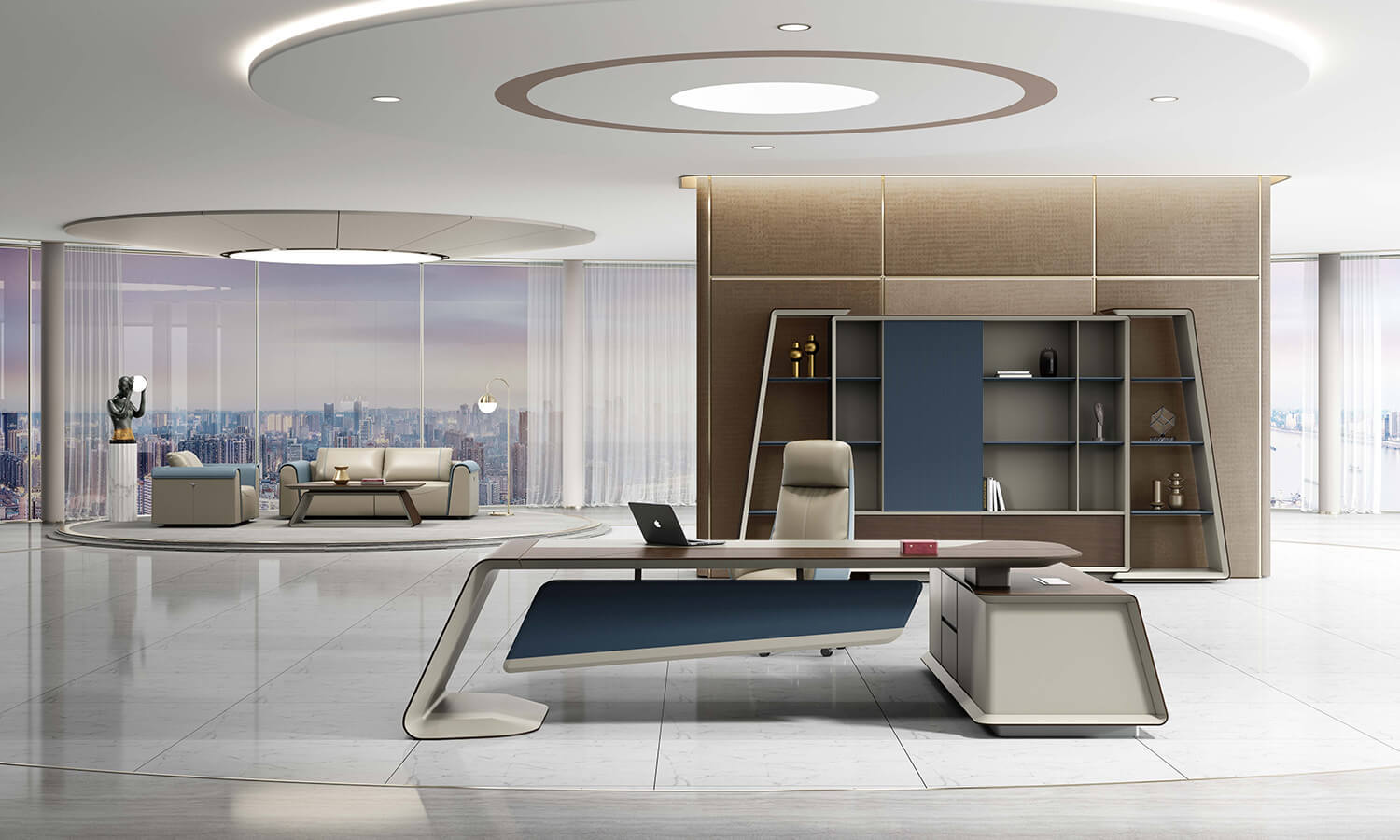 Aesthetic Excellence for Leaders and Elites
The Muchi series from DIOUS Furniture is meticulously crafted to meet the discerning tastes of leaders and elites. By combining elegant, modern design elements with an exquisite sense of style, these executive desks exude a timeless appeal that commands respect and admiration. The fusion of classic wood grain and high-end leather accents adds a touch of sophistication, setting the stage for an inspiring work environment.
Environmental-Friendly Veneer Painting Finish
At DIOUS Furniture, environmental sustainability is a top priority. The Muchi series features an environmentally friendly veneer painting finish that not only enhances the aesthetic appeal but also contributes to a greener future. The dual colors of the table top provide a visually pleasing contrast, while the smooth texture invites a delightful tactile experience. With each stroke of your fingers, you'll appreciate the attention to detail and craftsmanship that goes into every piece.
Streamlined Wire Management and Storage Solutions
Efficient wire management is crucial in maintaining a clutter-free executive desk. The Muchi series understands this need and incorporates a side extension with a wire box, allowing you to manage wires effectively through scientific routing. Say goodbye to tangled cords and hello to a clean and organized workspace. Additionally, the side extension storage includes drawers and swing doors, providing a secure place to store your documents, ensuring privacy and convenience. The large storage design ensures ample space for all your essential items, empowering you to stay organized and focused.
Conclusion
Experience the epitome of luxury and functionality with DIOUS Furniture's Muchi series executive desk. Whether you're a leader or an elite, these meticulously designed pieces will transform your office space into a haven of productivity and elegance. From the light luxury paint series to the architectural and sculptural aesthetics, each aspect is carefully integrated to create an exceptional experience. Embrace the fusion of classic and exquisite elements, revel in the environmental-friendly veneer painting finish, and appreciate the thoughtful wire management and storage solutions. Elevate your workspace with DIOUS Furniture's Muchi series executive desk and make a statement of success and refinement.
What Can We Do for You

ODM & OEM

Customization

Fast Delivery from Stock

CAD Layout & Rendering
No.422, Jin'ou Road, Jianghai District, Jiangmen City, Guangdong, China
Follow Us