A Guide to Finding the Perfect Reception Area Furniture for Your Brand
When making a great first impression, your reception area can make or break it. It's the first thing your guests see when they walk into your space, and the furniture you choose plays a significant role in how they feel. Warm and welcoming reception area furniture can elevate your brand image and create a comfortable guest experience. Conversely, a dull and uninspiring reception area can leave a negative impression. So, how do you choose the perfect furniture for your reception area? In this guide, we'll walk you through the components of the perfect reception area furniture ideas, what to consider when choosing, and where to find reliable suppliers.
The Components of Reception Furniture
The furniture in the reception area plays a vital role in creating this environment. Here are some more specific details on the components of reception furniture:
1. Reception Desk
The reception desk is the centerpiece of your reception area, where your guests check in, get information, and interact with your staff. As such, it's essential to choose a modern front desk that is both functional and visually appealing. It should have ample space to accommodate computers, phones, and paperwork. Also, it's important to consider the height of the desk, which is optimal between 29 and 34 inches from the floor. It allows individuals to comfortably use the desk, whether sitting or standing. Additionally, the desk should be designed to match the overall aesthetic of your reception area.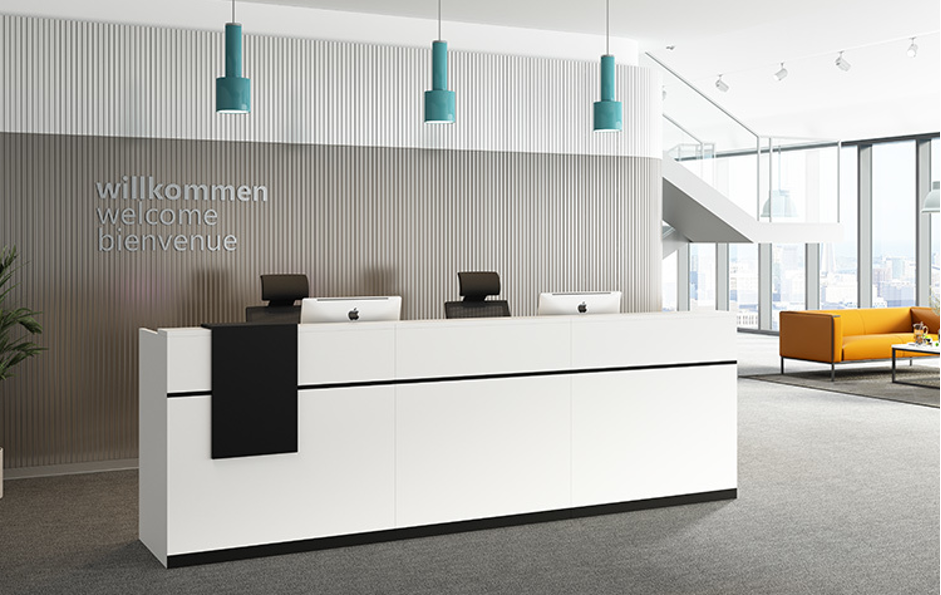 2. Reception Sofa
The reception sofa is not just a place for your guests to sit and wait; it's also a statement piece that can add to the overall aesthetic of your reception area. Suppose you're seeking both comfort and sophistication. In that case, a leather reception sofa is an excellent option, as it tends to have greater longevity and has the potential to improve in appearance over time.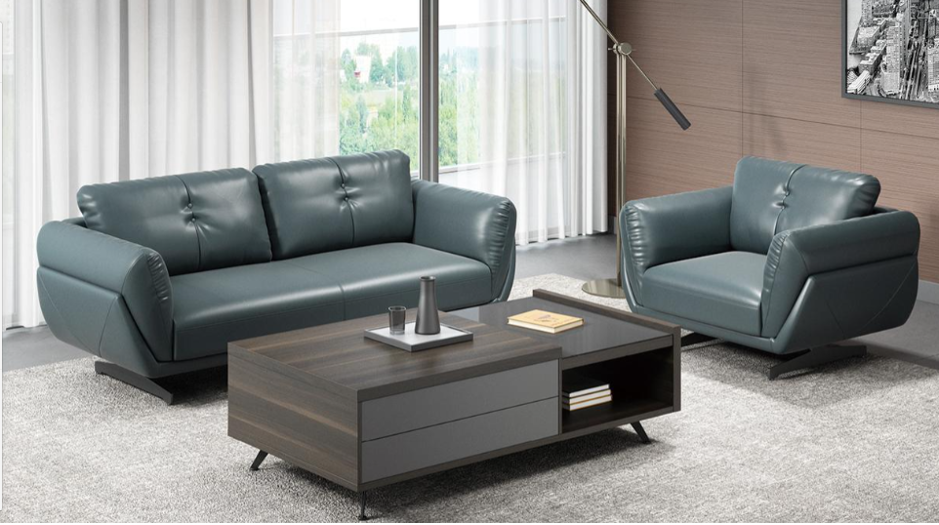 3. Coffee Table
A coffee table is a perfect addition to your reception area furniture. It provides a convenient place for guests to keep their belongings or refreshments while waiting. It's essential to select a coffee table that is both functional and matches the style of your reception area. The table should be sturdy and accommodate the weight of magazines, newspapers, and drinks. It's also essential to consider the size of the table, as it should be proportionate to the size of your reception area.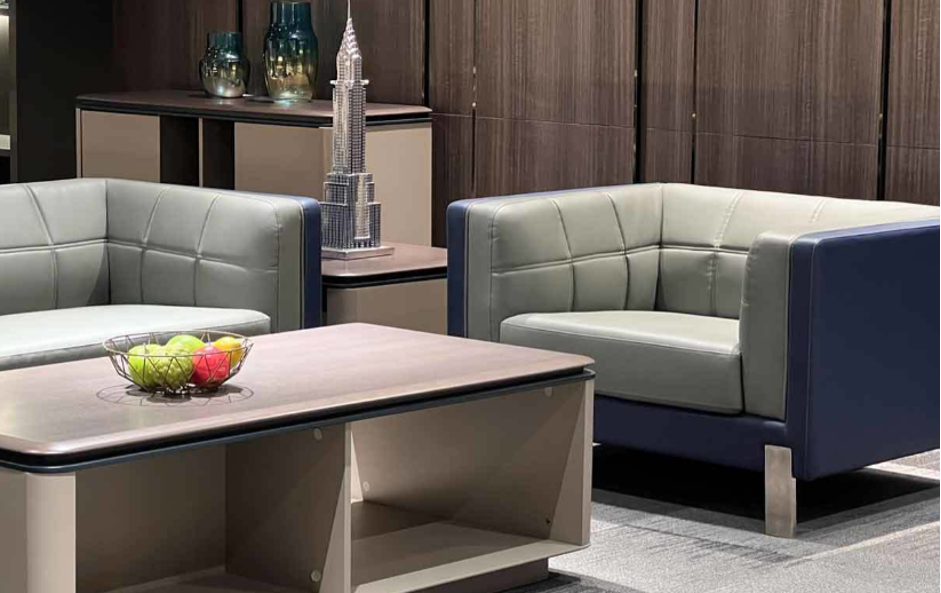 Things To Consider When Choosing Reception Area Furniture
Selecting furniture for the reception area involves considering various aspects that can influence the convenience and usefulness of the area. By keeping these critical considerations in mind, you can select furniture that reflects your brand's personality and values and meets the needs of your employees and guests.
1. Size Matters
Before shopping for reception area furniture, measure the dimensions of your space, including the room's length, width, and height. Measuring the dimensions of your space will provide you with an estimation of the largest furniture size that can fit in your reception area. Additionally, consider the layout of the room and the location of doors and windows. It is important to leave enough space around the furniture for easy navigation.
2. Style and Design: Reflecting Your Brand Identity
Next, think about the style and design of the furniture. The reception room furniture you choose should reflect your brand's personality and values while still being functional and comfortable. A cohesive design can create a professional and polished look, while a unique style can help your brand stand out.
3. Functionality: Meeting Your Business Needs
Your reception area furniture should be functional and practical, allowing your employees to work efficiently and your guests to feel comfortable. For instance, selecting a reception desk with ample storage can help keep the area organized and tidy. Additionally, seating with built-in power outlets can benefit guests needing to charge their devices.
4. Ergonomics: Prioritizing Comfort and Health
Ergonomics is also an important consideration when choosing furniture. Comfortable and ergonomic chairs and sofas can help prevent back pain and improve posture, making it easier for your employees to work efficiently. Choosing furniture that can be easily adjusted to fit each employee's height and preference can also enhance ergonomics.
5. Durability: Long-Term Investment
Lastly, durability is a critical factor to consider. Reception furniture is used frequently, so it's important to choose furniture that is made of high-quality materials and can withstand regular use. Investing in durable furniture can save you money in the long run by reducing the need for frequent repairs or replacements.
Get Premium Reception Room Furniture From Dious
When it comes to finding reliable suppliers for office reception area furniture, plenty of options are available. But not all suppliers are created equal, so choosing one that offers a range of high-quality products is essential. One such supplier is Dious. We are a commercial furniture manufacturer offering various reception furniture options. Our products are designed with both form and function in mind and are built to last. So, whether you're looking for a modern, minimalist reception desk or a classic, luxurious sofa for office reception, Dious has something to suit your needs. Investing in the perfect reception area furniture from Dious is an investment in your brand's image and guests' comfort.
What Can We Do for You

ODM & OEM

Customization

Fast Delivery from Stock

CAD Layout & Rendering
No.422, Jin'ou Road, Jianghai District, Jiangmen City, Guangdong, China
Follow Us