What is office furniture?
We all spend a lot of time in the office every day. However, practical, personalized workspaces and well-designed office furniture can help increase employee productivity and efficiency. That's why it's important to pick the right office furniture for the user, but do you know what office furniture is?
Follow Dious, you'll go from beginner to expert!
Categories of Office Furniture
What is office furniture? It is the furniture used in the office or home for work.
From the material can be divided into solid wood, veneer, melamine, etc.
From the use of function can be divided into office desks, office chairs, panels, sofas, coffee tables, file cabinets, bookcases, etc.
If you have other specific needs, such as a reception area or lounge furniture, you can place countertops, refrigerators, etc.
These can be applied to open staff offices, meeting rooms, reading rooms, library rooms, training classrooms, laboratories, staff dormitories, etc.
Let's take a look at Diou's various office furniture series, wonderful color matching, people-oriented concept, and the perfect combination of visuals and tactile!
Dious office furniture series
Dious office furniture series includes solid wood series; veneer series; solid wood & veneer series; MFC( with thickened table top) series; melamine series; sofas & chairs; school furniture and hotel furniture.
Solid wood series
Solid wood office furniture never goes out of style. Because of its natural beauty and durability, it is often imitated but never duplicated.
The perfect solid wood desk has a smooth texture, and you don't have to worry about chipping or peeling surfaces.
Solid wood office furniture are suitable for executive desks, file cabinets, conference tables, training tables and other products.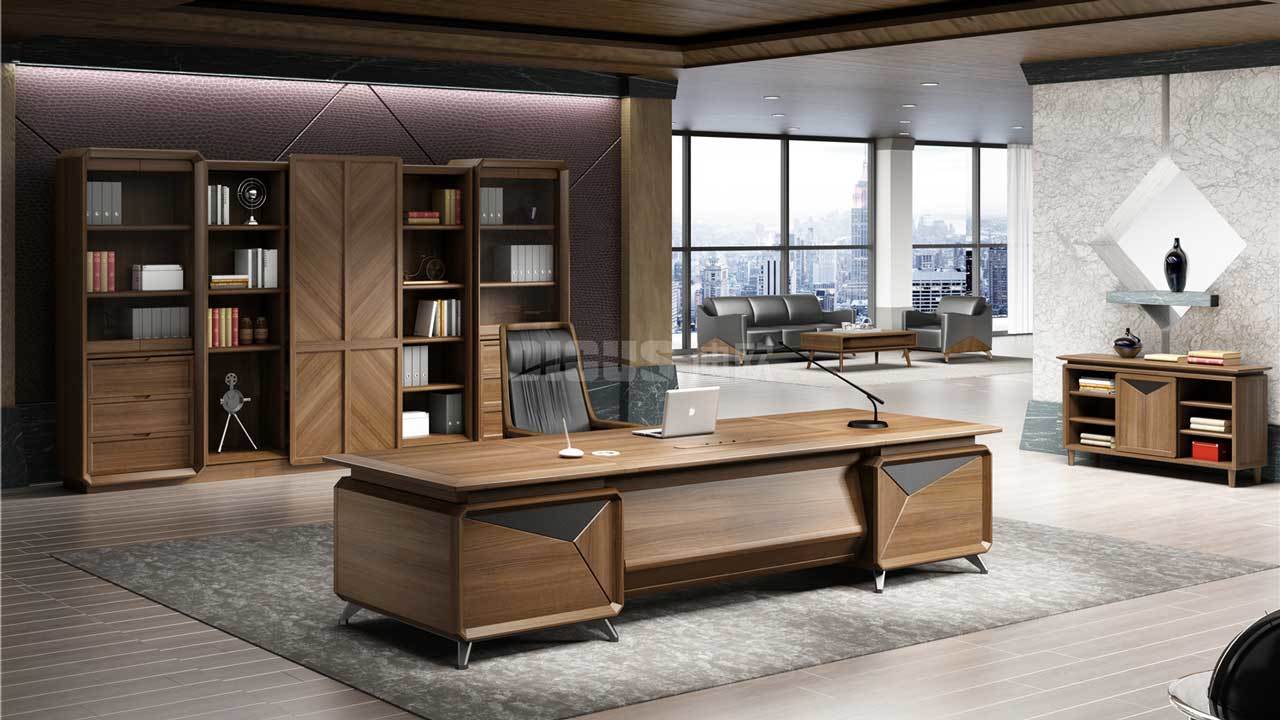 Inspired by triangular elements, the Well Series executive desk integrates business with aesthetic elements, creating a new concept in solid wood office furniture. It uses imported premium materials and delicate textures to create a modern, light luxury look.
Veneer Series
Veneer office furniture is considered one of the most popular wood materials in furniture design, especially in modern furniture. Designers typically use veneer wood to beautify the look of desks, bedside tables, kitchen cabinets, and more. Also, it is a more affordable option relative to other alternatives.
Often, veneer office furniture can be found in upscale executive offices, conference rooms, reception desks, and even home offices.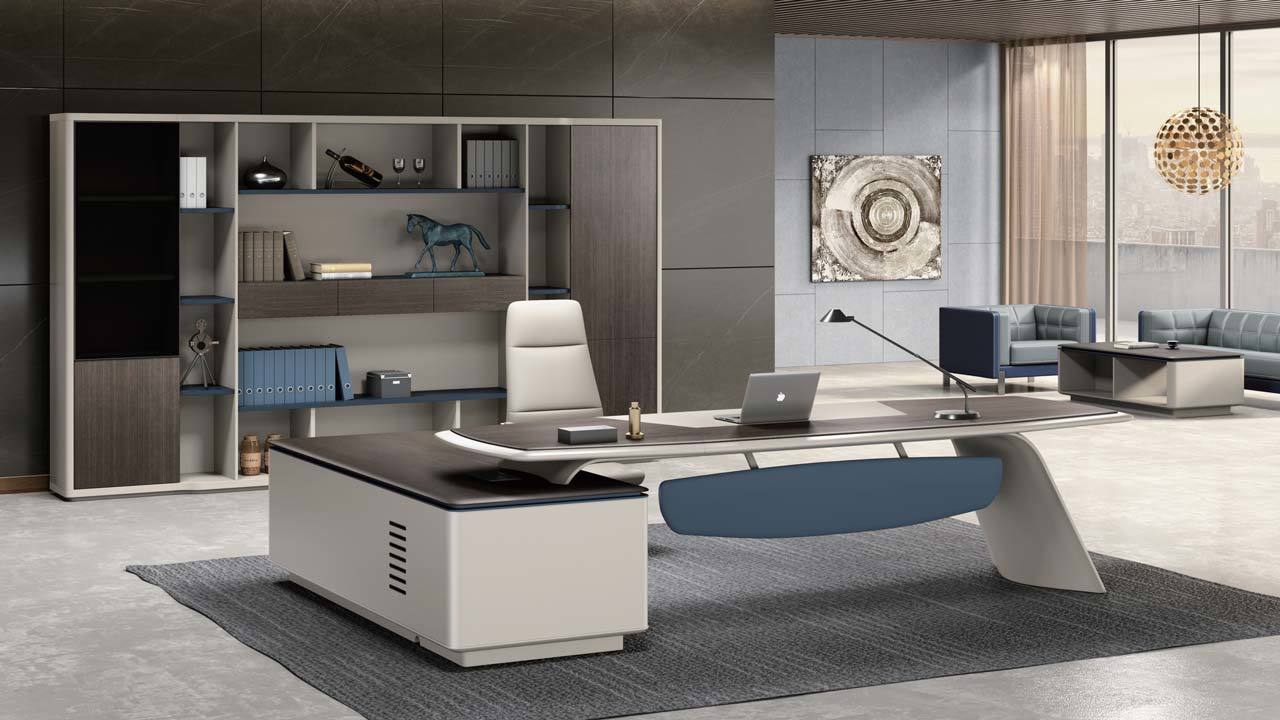 The fashion series comes from the minimalist Italian style, the overall shape of the executive table is streamlined, breaking the traditional style of the desk, with self-molded legs, combining technology and fashion.
Melamine Series
Melamine is a cost-effective solution for creating a tough and durable tabletop surface. It is not only easy to keep clean but is also moisture and stain-resistant, is available in a wide range of colors and textures.
KB series
' overall design style is simple but reveals a kind of luxury. It is not just a place to work here, but also a place that focuses more on visual impact and tension coordination. This series has 5 different models to satisfy your multiple needs.
MFC( with thickened table top) series
With its thickened table tops, the
Porsche series
combines oriental charm with western elegance. Bringing classics and moderns together creates a stunning office environment.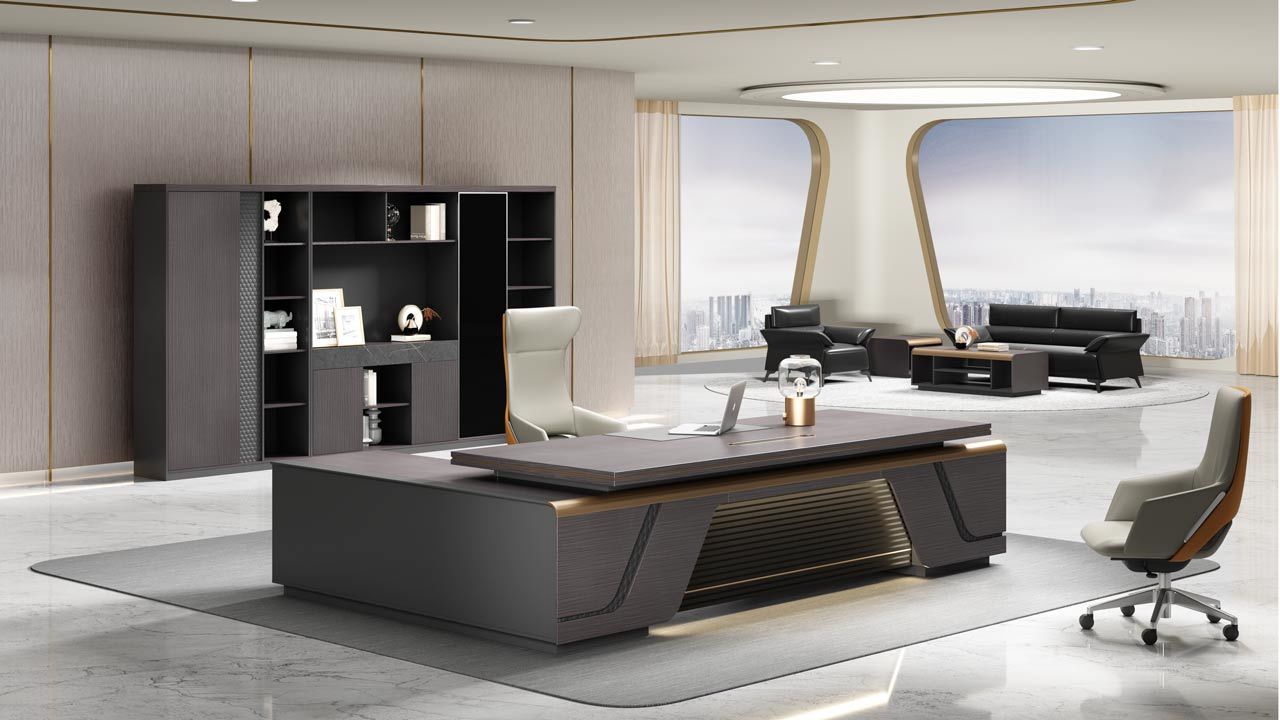 Selecting good materials and paying attention to ergonomics as well as nature and human beauty are important factors in producing durable sofas and chairs.
The Dious DL8837-A mesh office chairs with a modern design that naturally responds to a body's movement, providing industry-leading comfort, ergonomics, and sustainability.
Soft cushion seats provide maximum comfort for long periods of time. The ultra-light frame flexes to eliminate painful pressure points common in other mesh chairs.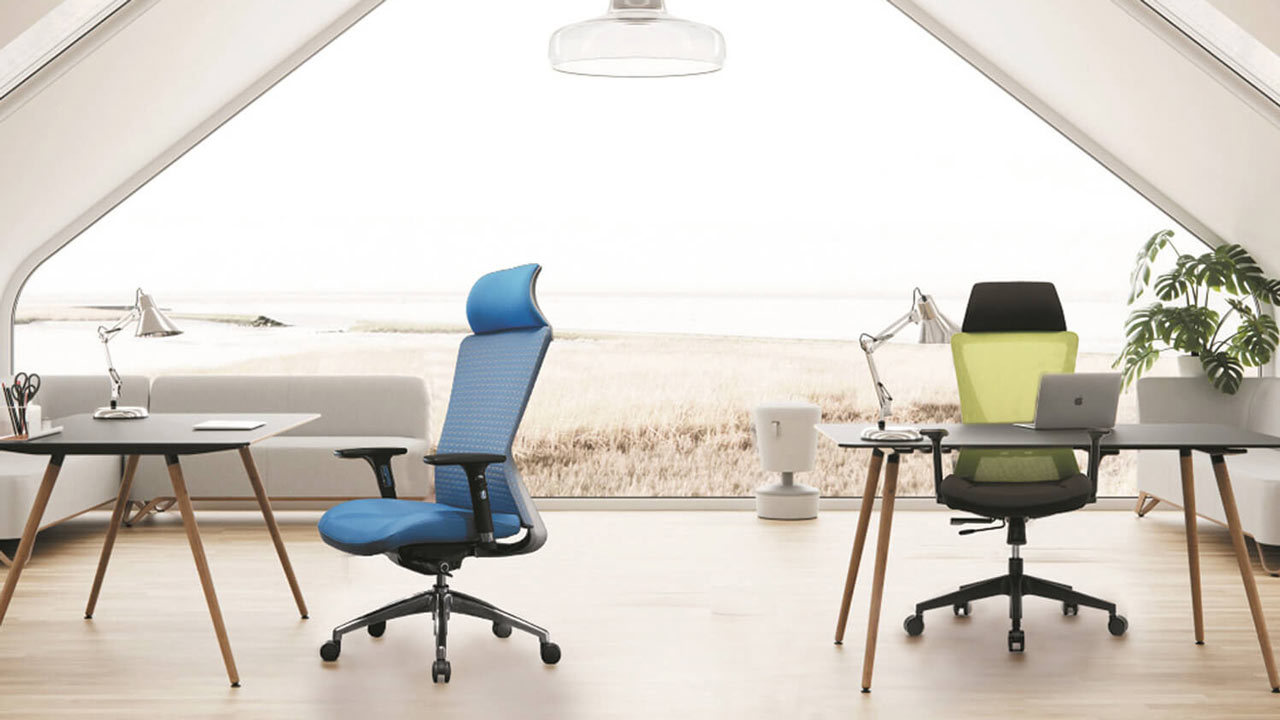 Are you ready to design your office to maximize productivity and creative thinking?
Dious provides comprehensive solution suggestions with a wide range of products and customizable options to create a green and comfortable working space for customers.
Create the perfect office space by getting in touch with us.
What Can We Do for You

ODM & OEM

Customization

Fast Delivery from Stock

CAD Layout & Rendering
No.422, Jin'ou Road, Jianghai District, Jiangmen City, Guangdong, China
Follow Us