Top 6 Must-Try Executive Office Ideas for a Productive Workplace
A well-designed executive office can significantly impact productivity, creativity, morale, and even health. On the other hand, a poorly designed and uninspiring workplace can harm these key factors. That's why it's crucial to implement some effective executive office ideas to make your workplace productive. This article will explore the essential features of an effective executive office design and provide you with the top 6 executive office ideas to help you create a productive workplace. Read on to learn how you can transform your office space and elevate productivity to the next level.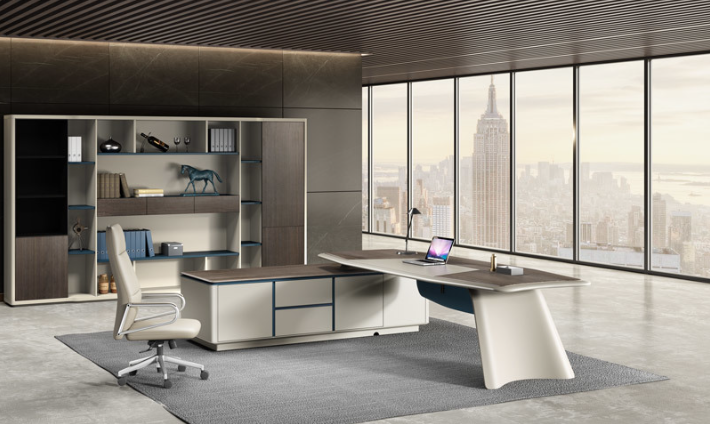 Key Features of a Modern Executive Office Design to Improve Productivity
The design may seem like a simple concept regarding executive office ideas. Still, it is quite complicated when you consider everything that goes into the space and the activities that take place every day. There are some key features to take into account to ensure the executive workplace is productive, including the following:
Maximizing output is the primary goal of any business or organization. That's why it is important to integrate functional executive office furniture with modern executive office design.
Comfortable executive offices enhance focus and promote positivity. Some executive office ideas to achieve this include regulating air quality and temperature and using the executive ergonomic office chair and desk.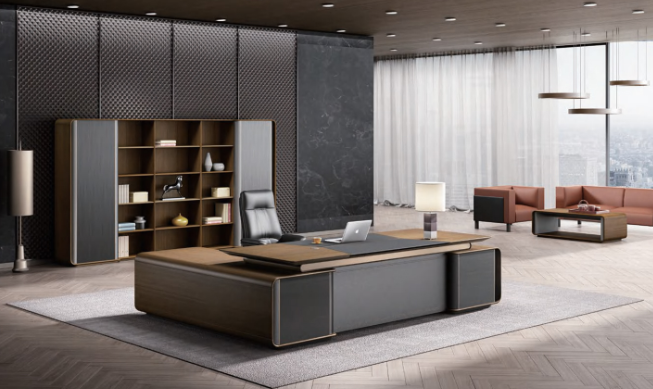 Privacy is an important aspect of executive office design. Creating private zones within the office space can provide executives with the necessary environment to focus on their most essential tasks without distractions.
Bringing technology into the executive office helps people to do their job more efficiently. Workplace technology may include easy access to cloud-based video conferencing, meeting rooms with remote sharing capabilities, work cafes with Wi-Fi, LED and video walls, etc.
Personal

and Customized

Style
When considering executive office design, it's essential to consider the owner's style and preferences. Personalizing and customizing the comfortable executive office chair and desk can help executives create an efficient and comfortable environment.
Executive Office Design Ideas For a Productive Workplace
You can enhance productivity and efficiency by creating a well-organized, well-maintained executive work environment with areas to focus, relax, and recharge. Here are some recommended executive office ideas:
1. Incorporate Natural Elements
Bring a touch of nature into the workplace to improve mood and health. The best way is to incorporate some greenery into the space. Other elements include a Zen water fountain, natural lighting solutions, etc. Be sure to choose low-maintenance plants and other elements.
2. Use Comfortable Executive Furniture
Ergonomics are the key to making executives comfortable and increasing their productivity. So, comfortable furniture should be at the forefront of your office plan. Ensure the modern executive office desk and chair are adjustable according to needs.
3. Choose Appropriate Lighting
Appropriate lighting is key to ensuring productivity and well-being. The ideal executive office environment lets in as much natural light as possible. To complement natural light, install general overhead lighting with dimming capability.
4. Create a Personalized Space
Giving executives the freedom to personalize their workspace is a great way to enhance their productivity and comfort. Personalized spaces make them feel at ease.
5. Incorporate Art And Decor
Be sure to add a bit of warmth and personality to your workplace. Some relevant executive office ideas when it comes to this include painting the walls to align with your brand, hanging quirky paintings, quotes, etc. An executive workplace should also display art and decor as it adds more character to the space.
6. Implement Technology Solutions
Consider making necessary appliances and devices available to the executive office. Work-related tech gadgets, computers, etc., could significantly improve executives' performance. Make sure to invest in high-quality copiers/printers as well as other equipment to make working easier.
Get More Executive Office Layout Ideas From Dious Furniture
If you're looking for modern and functional executive office ideas, Dious Furniture is the way to go. As one of the top commercial furniture manufacturers, we offer an extensive range of premium-grade furniture designed to promote comfort, productivity, and aesthetic appeal. Whether you need executive office desks, file cabinets, meeting tables, or staff benching, Dious Furniture has got you covered. With over a decade of experience, our commitment to quality products and consistent service has earned us a stellar reputation in the commercial furniture industry. So why settle for less? Contact our friendly experts today and upgrade your executive office with the best furniture available.
What Can We Do for You

ODM & OEM

Customization

Fast Delivery from Stock

CAD Layout & Rendering
No.422, Jin'ou Road, Jianghai District, Jiangmen City, Guangdong, China
Follow Us