The Importance of a Well-Designed Conference Table: Why DIOUS Furniture is the Perfect Choice
When it comes to hosting important meetings and conferences, the conference table you choose can significantly impact your event's overall atmosphere and productivity. A well-designed conference table makes a great first impression and enhances communication and collaboration among attendees. This blog post will explore why DIOUS Furniture is the perfect choice for your next conference table investment, from its sleek design to advanced technology features. Get ready to transform your meeting space into a hub of creativity and innovation with DIOUS Furniture!
Introduction to DIOUS Furniture Conference Tables
When furnishing a boardroom or conference room, the table is the centerpiece. It's where business deals are signed, innovative ideas are born, and important decisions are made. That's why choosing a high-quality conference table will make a positive impression on clients and colleagues is essential.
DIOUS Furniture is a leading manufacturer of bespoke conference tables, offering various styles and designs to suit any boardroom or meeting space. Whether you're looking for a traditional wood table or a more contemporary glass option, DIOUS Furniture has the perfect table.
Our attention to detail and commitment to customer satisfaction sets DIOUS Furniture apart from other conference table manufacturers. We understand that each client has unique requirements, so we offer a bespoke design service to ensure your table is exactly as you envisioned.
If you're looking for a conference table that will make a lasting impression, look no further than DIOUS Furniture. Contact us today to discuss your specific needs and plan your dream table.
Benefits of Having a Well-Designed Conference Table
When it comes to hosting a successful conference, first impressions matter. Your conference table is often the centerpiece of the room and can make or break the overall look and feel of the space. This is why it's so important to choose a stylish and functional table. DIOUS Furniture has a wide selection of beautiful, well-designed conference tables to make your space look its best.
Size is vital when it comes to conference tables. You want a large table to accommodate all your attendees but not so large that it feels overwhelming. DIOUS Furniture tables have various sizes for your need.
In addition to being functional, DIOUS Furniture tables are also incredibly stylish. Our tables are available in various wood finishes so that you can find the perfect match for your space. We also offer different base options, including metal and wood, so you can further customize the look of your table. And because our tables are made from high-quality materials, you can be sure they'll look great for years.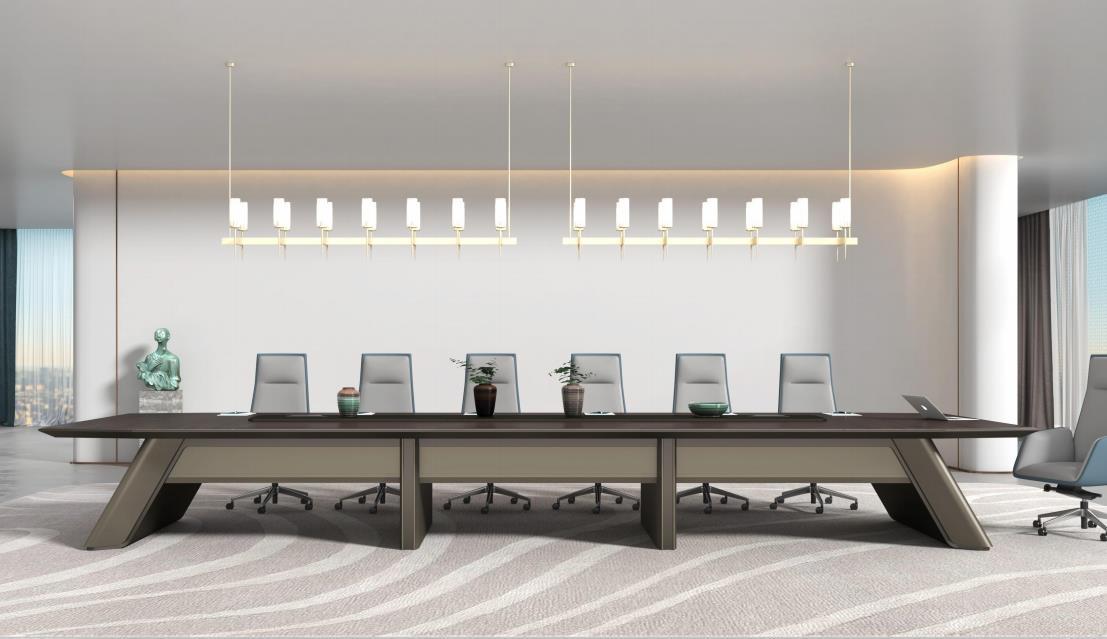 What Makes DIOUS Furniture Tables Stand Out?
DIOUS Furniture tables are designed with both form and function in mind. From the sleek, modern lines of the DIOUS Furniture ONE to the more traditional look of the DIOUS Furniture TWO, these tables will make a statement in any boardroom or conference room. But it's not just about looks – DIOUS Furniture tables are also built to last, with sturdy construction that can withstand years of use.
So what makes DIOUS Furniture tables the perfect choice for your next meeting or event? Here are just a few of the things that set them apart:
- Sleek, modern conference table design
- Sturdy construction
- Wide range of sizes and shapes to choose from
- Available in a variety of finishes
- Customizable options available
Conclusion
DIOUS Furniture's conference tables are the perfect solution for any business requiring high-quality, aesthetically pleasing boardroom furniture. With unique designs and attention to detail, DIOUS Furniture provides your office with a sleek, modern look that will add an air of professionalism and ensure maximum collaboration in meetings. Whether you're looking for a classic conference table or something more contemporary, DIOUS Furniture has everything you need to confirm your office looks its best. Don't hesitate to contact DIOUS Furniture today!
What Can We Do for You

ODM & OEM

Customization

Fast Delivery from Stock

CAD Layout & Rendering
No.422, Jin'ou Road, Jianghai District, Jiangmen City, Guangdong, China
Follow Us