Enhance Productivity with Suitable Length of DIOUS Furniture's Modern Meeting Tables
In today's fast-paced business world, effective communication and collaboration are essential to achieve a company's goals. One of the most crucial areas where ideas are exchanged and decisions are made is the meeting room. However, to maximize productivity, it's important to have the right kind of meeting table that caters to the specific needs of your team. If you're wondering how-long-is-a-meeting-table, the answer is that it depends on the size of your meeting room and the number of people who will be using it.
At DIOUS Furniture, we understand that every business has unique requirements. That's why we offer a range of modern meeting table solutions that can accommodate different group sizes and room dimensions.
Choose the Right Size for Your Meeting Room
The first factor to consider when selecting a meeting table is "how long is a meeting table", you'll need a conference table that can seat more people. Our Fashion meeting table, Model No. ESS-01C36, is 3600mm wide and 1300mm deep, providing ample space for large groups to collaborate effectively.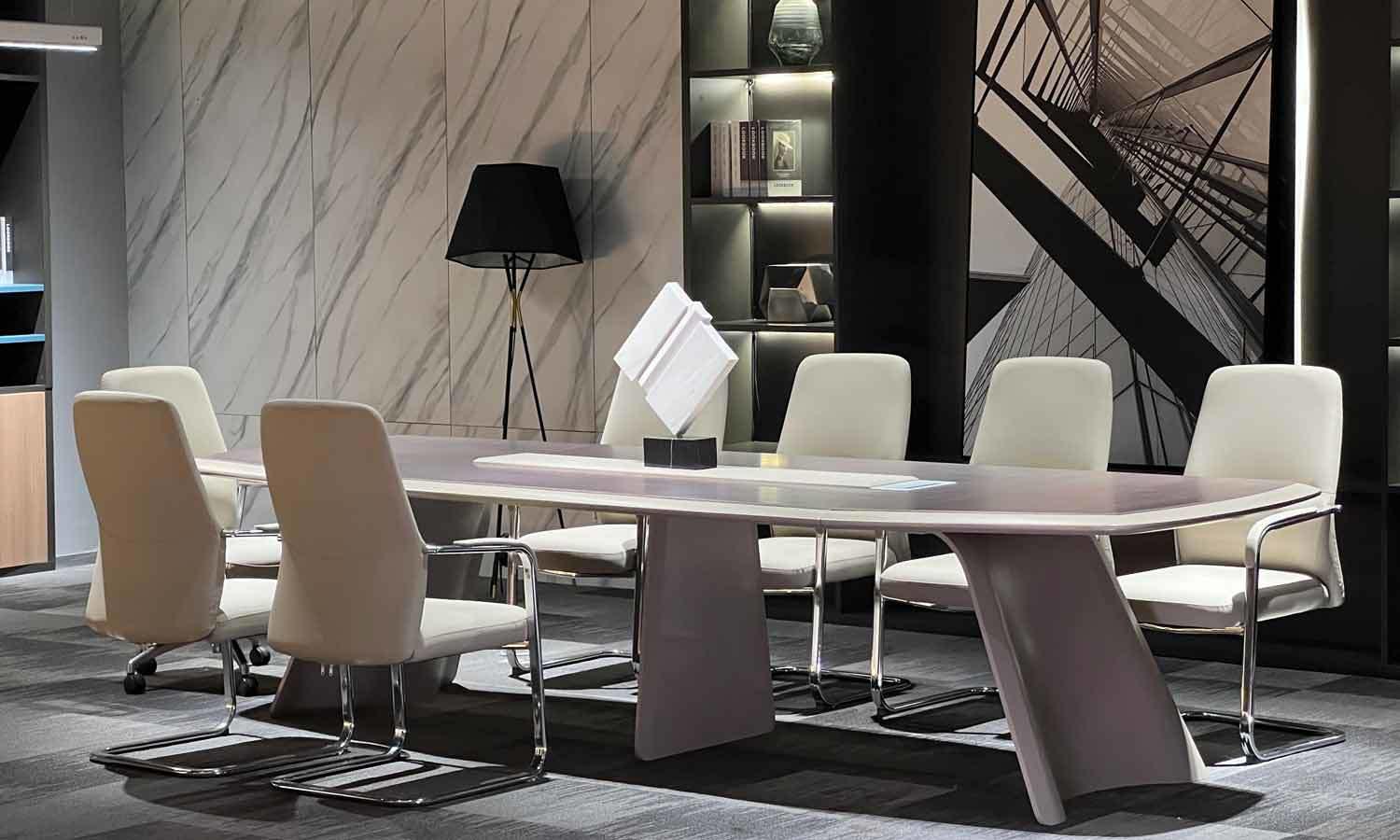 However, if you have a smaller meeting room or only use it for small team meetings or video conferences, you may want to opt for a more compact office meeting table solution. With our range of tables in different shapes and sizes, you're sure to find one that meets your specific requirements.
Functionality and Sustainability
At DIOUS Furniture, we believe that form and function should go hand-in-hand. That's why our meeting tables are not only stylish but also designed to cater to your functional needs. Our intelligent power supply system ensures that you can easily connect to electronic equipment during a meeting, and hide away the wiring box when not in use.
Moreover, we're committed to sustainability, and all our products are made with the life cycle in mind. Our Fashion meeting table Model No. ESS-01C36 is crafted with great attention to detail, and its overall streamlined design reflects your extraordinary fashion taste.
DIOUS Furniture - Your Ideal Meeting Table Solution
With our range of modern meeting table solutions, DIOUS Furniture can help you enhance productivity and creativity in your workspace. Whether you're looking for a large conference table or a compact office table, we have a variety of options to choose from.
So, how long is a meeting table? At DIOUS Furniture, we offer tables that cater to different room sizes and group requirements. With our focus on functionality and sustainability, you can be sure that our meeting tables will not only meet but exceed your expectations.
Conclusion
If you want to create an inspiring and collaborative meeting environment, invest in a modern meeting table from DIOUS Furniture today.
What Can We Do for You

ODM & OEM

Customization

Fast Delivery from Stock

CAD Layout & Rendering
No.422, Jin'ou Road, Jianghai District, Jiangmen City, Guangdong, China
Follow Us