Folding Train Table: Relieve The Stuffy Office Area
Folding train table is a convenient to carry, easy to fold table, often used on train, aircraft and other transportation, also suitable for outdoor camps, camping and other activities.When applied in the office area, it can save space, and it is also convenient to move and clean.
DIOUS Furniture is a reliable furniture manufacturer, wholesale office furniture, accept Original Equipment Manufacturer and Custom Service.
Characteristics Of Folding Train Table By DIOUS Furniture
Flexibility: folding train table can be folded and stretched as needed, and the number and size of desks can be increased or reduced at any time according to the actual situation to suit different needs.
Mobility: folding train table is usually designed with wheels, easy to move and arrange, and can be adjusted to the location and layout as needed.
Space saving: folding train table can be folded when not in use, forming a smaller volume, saving space, and facilitating the cleaning and arrangement of the office.
Multifunctionality: folding train table can be used in a variety of occasions, such as offices, conferences, training, etc., with strong adaptability and flexibility.
Economics: folding train table with folding design can reduce waste and cost of materials, reduce the overall cost of procurement and installation, and save the company's expenses.
Esthetic: folding train table uses modern design, appearance is simple and beautiful, can improve the company's image and atmosphere.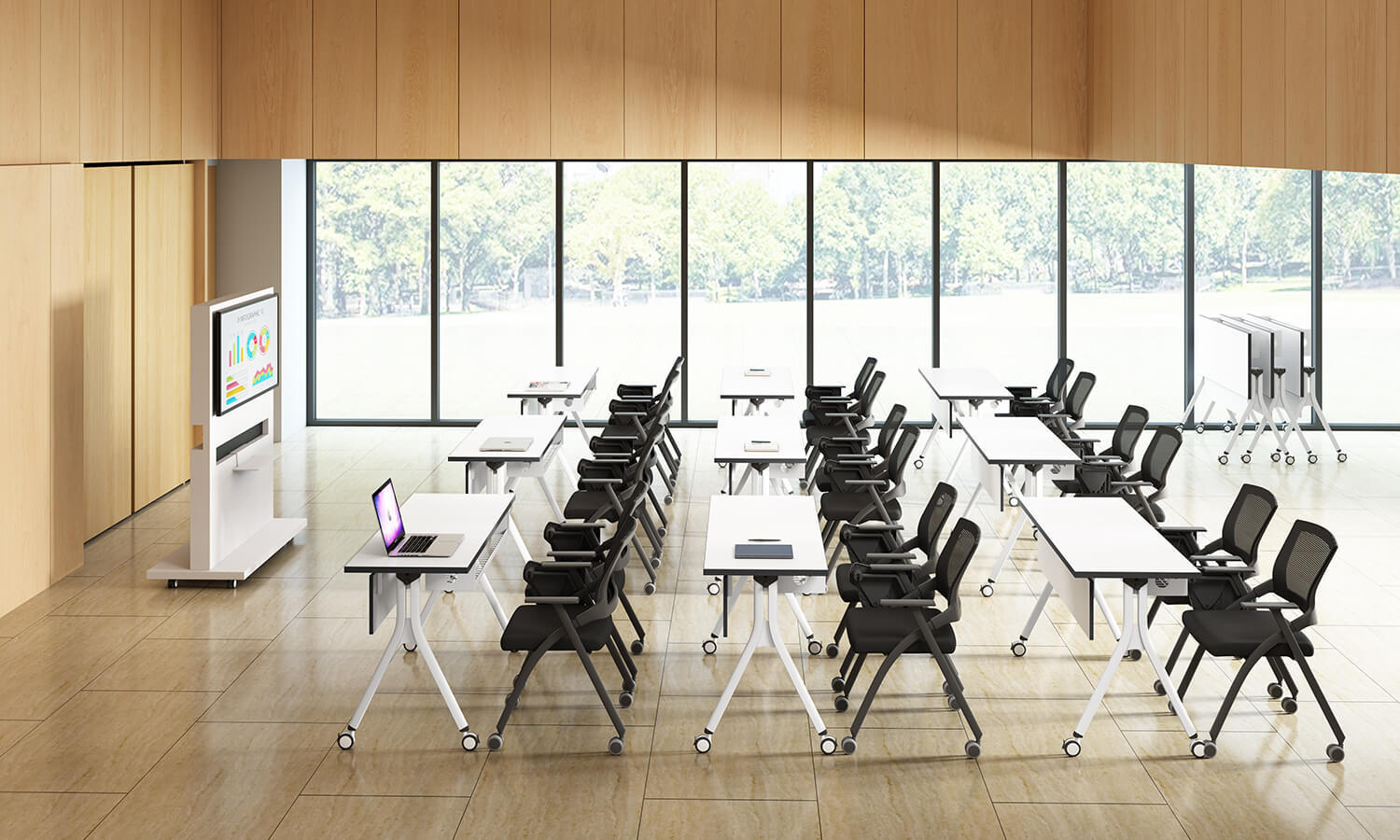 A Specific Product Designed By DIOUS Furniture
The inverted T-shaped and white hue of the PEL training desk demonstrate its straightforward design's austere aesthetics and practicality.
PEL employs powder-coated steel legs that are integrally white and an environmentally friendly MFC table top. To fold it, press a switch and rotate it 90 degrees. After folding, many desks may be stacked together to free up room for other team-related tasks.
PEL workstations with omni-directional casters may be moved simply and flexibly to construct any customized layouts for group trainings, debates, meetings, or any imaginable cooperation using different combinations, according on the needs of the various activities.
Conclusion
DIOUS Furniture is dedicated to helping customers create cozy, environmentally friendly workplaces by offering comprehensive solutions based on a choice of fundamental items and particular alternatives. Our goods and services are available to a wide variety of enterprises worldwide. The huge number of our attentive and motivated employees are one of the many benefits of our excellent design.
What Can We Do for You

ODM & OEM

Customization

Fast Delivery from Stock

CAD Layout & Rendering
No.422, Jin'ou Road, Jianghai District, Jiangmen City, Guangdong, China
Follow Us