Excellent Training Room
Grow up with staff
If you want to build an empire, you cannot do it alone. You need help from highly skilled staff to experience exponential growth. The best way to achieve that is by setting up a training room. This room will help increase their creativity.

Research shows that when the employees grow, the company grows two times faster or more. So it would be better if a company has a skill development center, where the staff learns something new weekly. You cannot underestimate the power of training.

Thus, making the training room highly comfortable for the staff is the top priority. An example is, the one of DIOUS clients named Hanumantha Rao in India, said that although training is voluntary, all my staff love spending some time here helping each other out. We invite industry leaders occasionally to sharpen their skills. I need to upgrade the room to accommodate every staff, as it has become their favorite room and incubates the best ideas.
1.Variable and various layouts

DIOUS designers conceive this simple, intuitive design that enables users to efficiently and easily set up and reconfigure a training room when the needs in the office change. You can revamp the training room easily like the layouts below.
Classroom layout
The classroom style is the most common and recognizable layout with several horizontal rows of tables with chairs facing the direction of the presenter and accompanying displays. In the case of the reserved aisle, the space shall be used to the greatest extent to accommodate more people.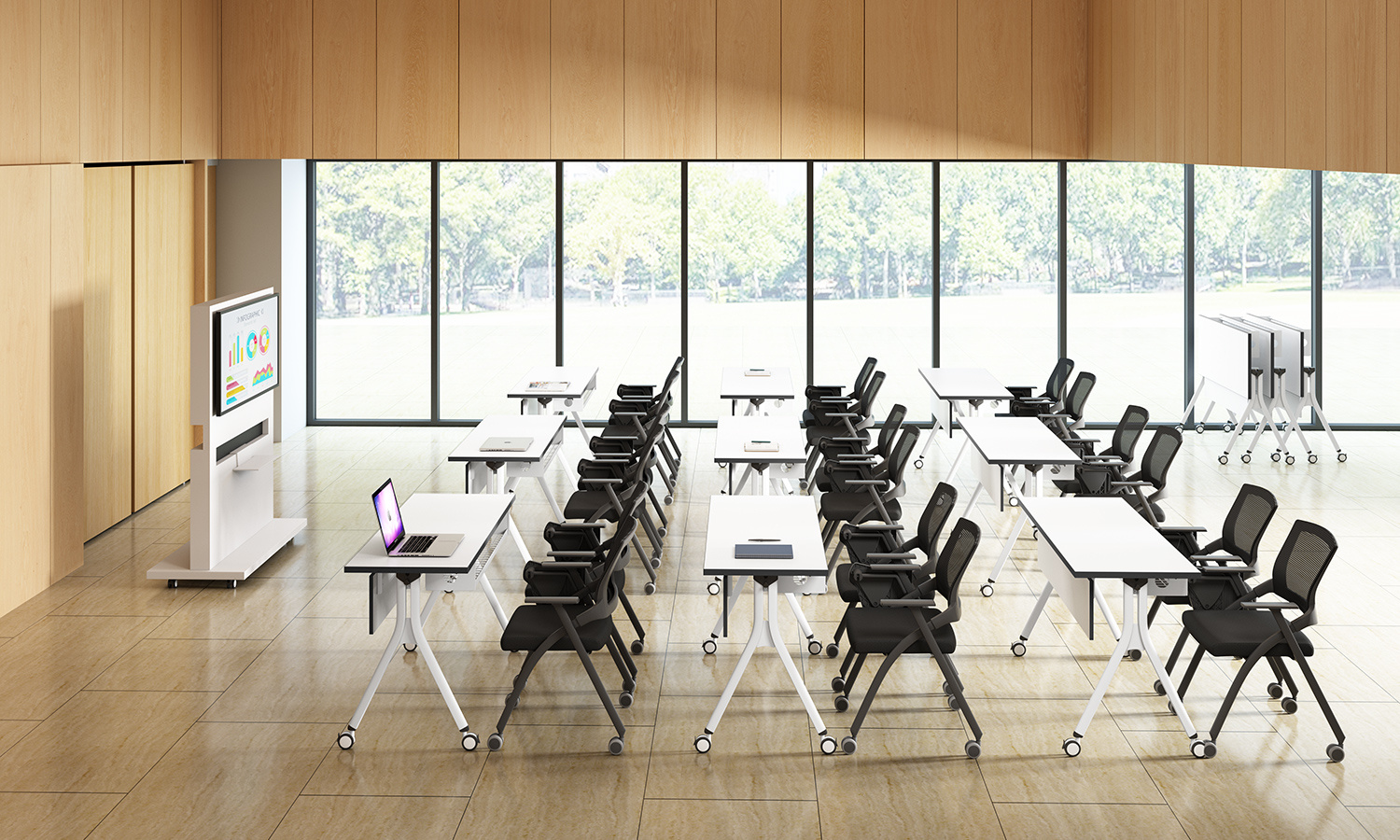 Cluster layout
Placing the tables with several chairs like cluster, this form allows the presenter room to move about the classroom and the participants space to collaborate in small groups. This style setup fosters community and teamwork.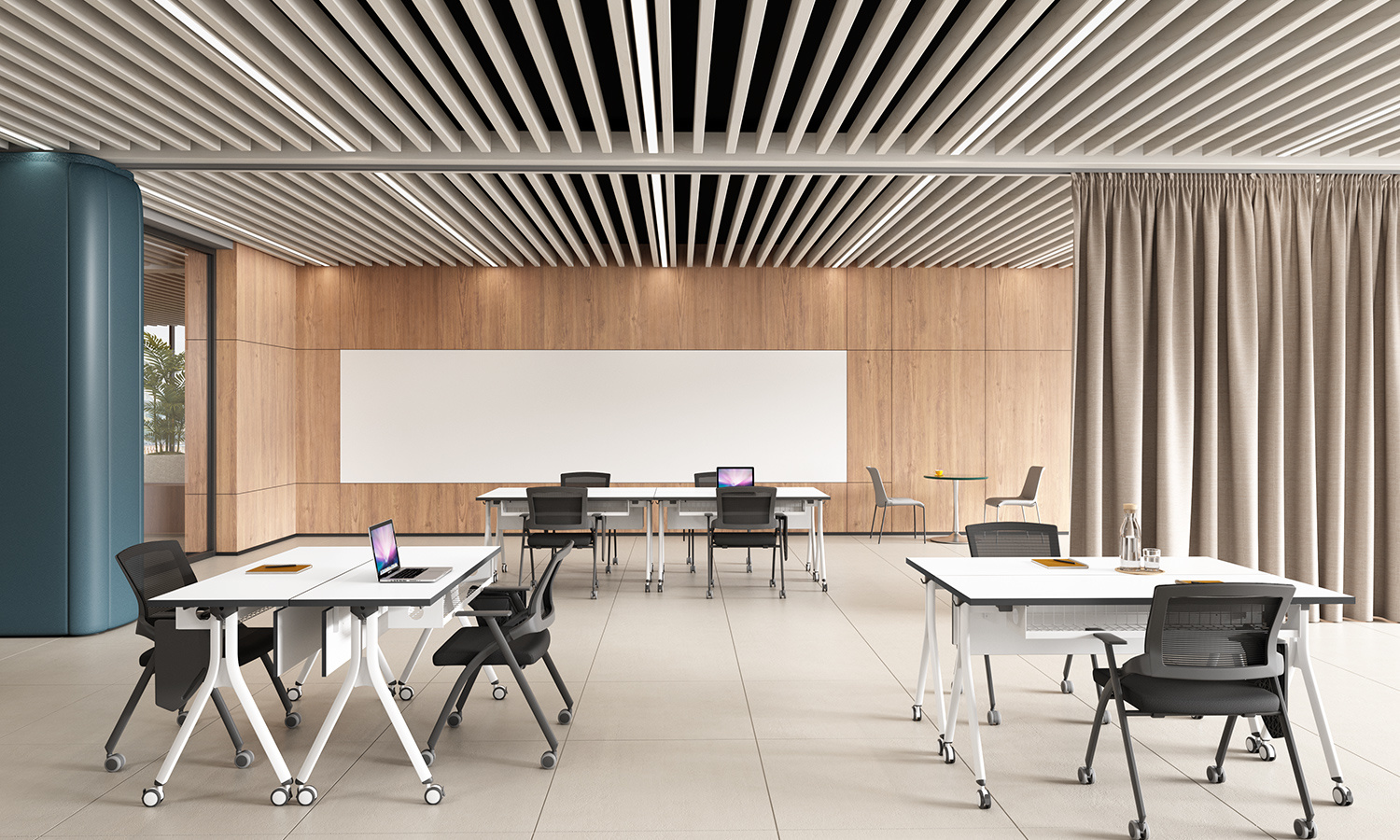 Circled layout
The tables in this enclosed layout face each other in a circle or square shape. This is ideal for discussion and debate, creating a sense of equality among all participants. It could improve people's enthusiasm and the efficiency of the organization.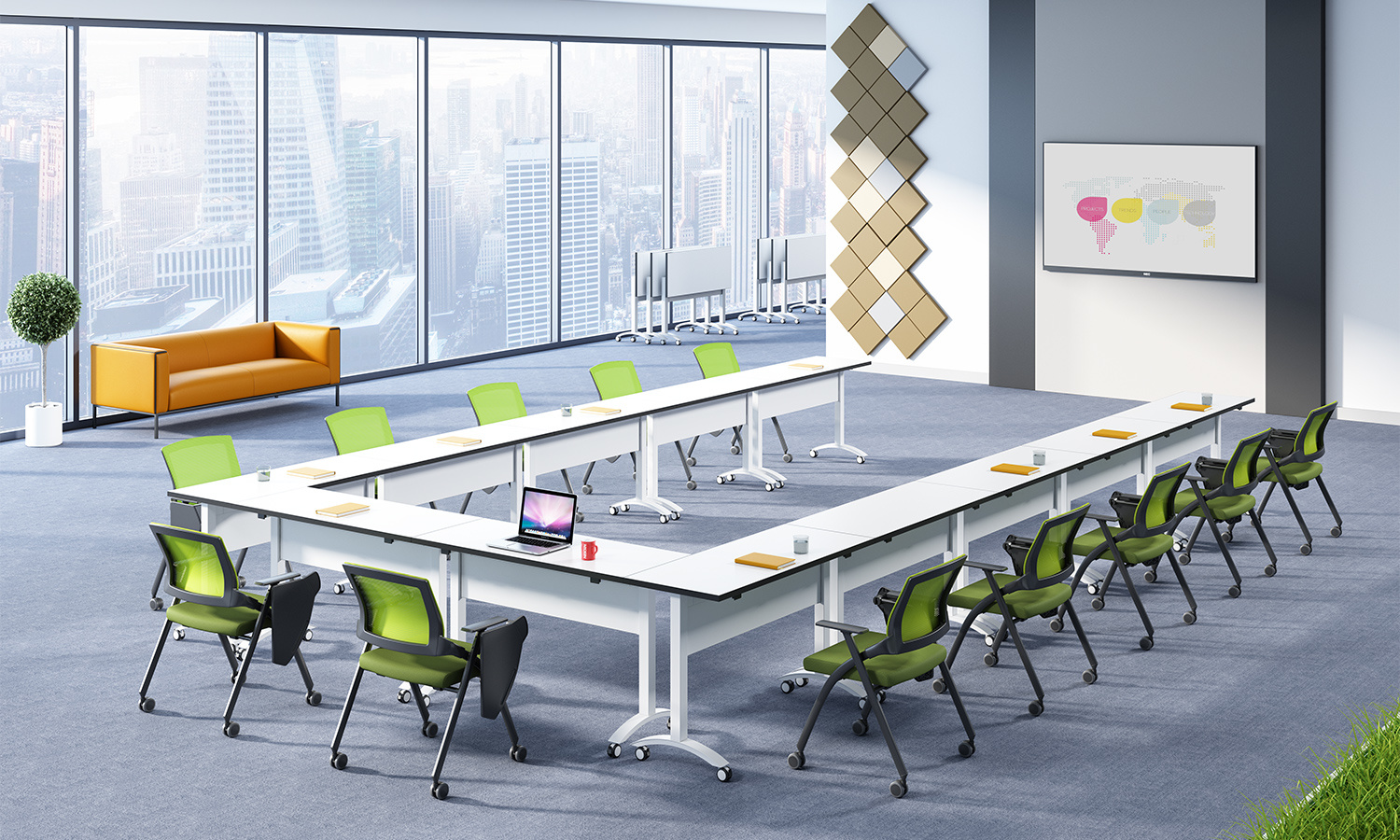 Other layouts that you like
Apart from the above layouts that we present, users can freely change the layout flexibly based on actual demand.
2.Customization options for different configuration
To minimize everyday clutter in the training area, we have created space-saving multifunctional tables with storage shelf for bags or personal belongings, with or without wheels, possibility for folding or not, different dimensions ranging from 1.2m to 1.8m in length and from 0.4m to 0.7m in width generally. Besides the tables, we also serve seating in two kinds mostly. One is foldable training chair with or without wheels, cup supporter, writing tablet, etc. Another one is stackable chair, which can be with or without cushions as well as with different color options.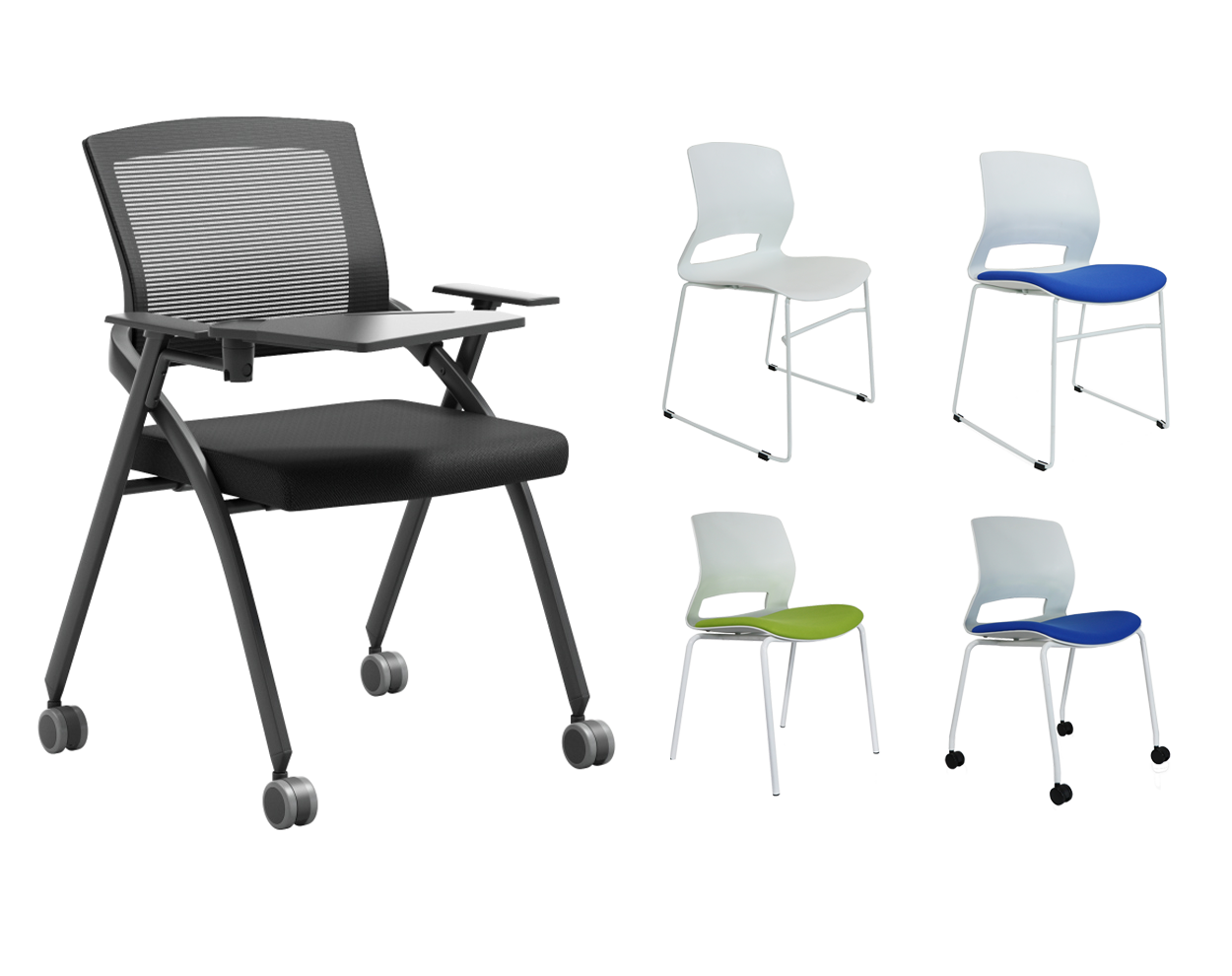 As you know, colors have a way of communicating with the brain, helping evoke the staff's creativity towards building your business. Choosing the suitable color for your office improves comfort, and don't worry, padded vinyl back and seat cushions are easy to clean.
3.Relevant products

In training or any collaborative activities, writing board and podium are always needed to have better presentation. We also offer these relevant products for our customers.

No matter how many tools and technologies for document-sharing are invented, there's nothing like the feeling of writing out ideas on pen and whiteboard when training.

Whiteboards can be a useful productivity tool for office training and meeting. They help share ideas and visualize thought processes for everyone in the discussion. For your offices, whiteboards can be useful in your conference and training room space while employees need to be able to have productive conversations.

A podium can help speakers a sense of security when they feel nervous and can help to release fatigue to some extent by leaning against lightly when feeling tired.

A mobile whiteboard and podium can be very handy for staff because they can move it easily anywhere and record the ideas and points anytime.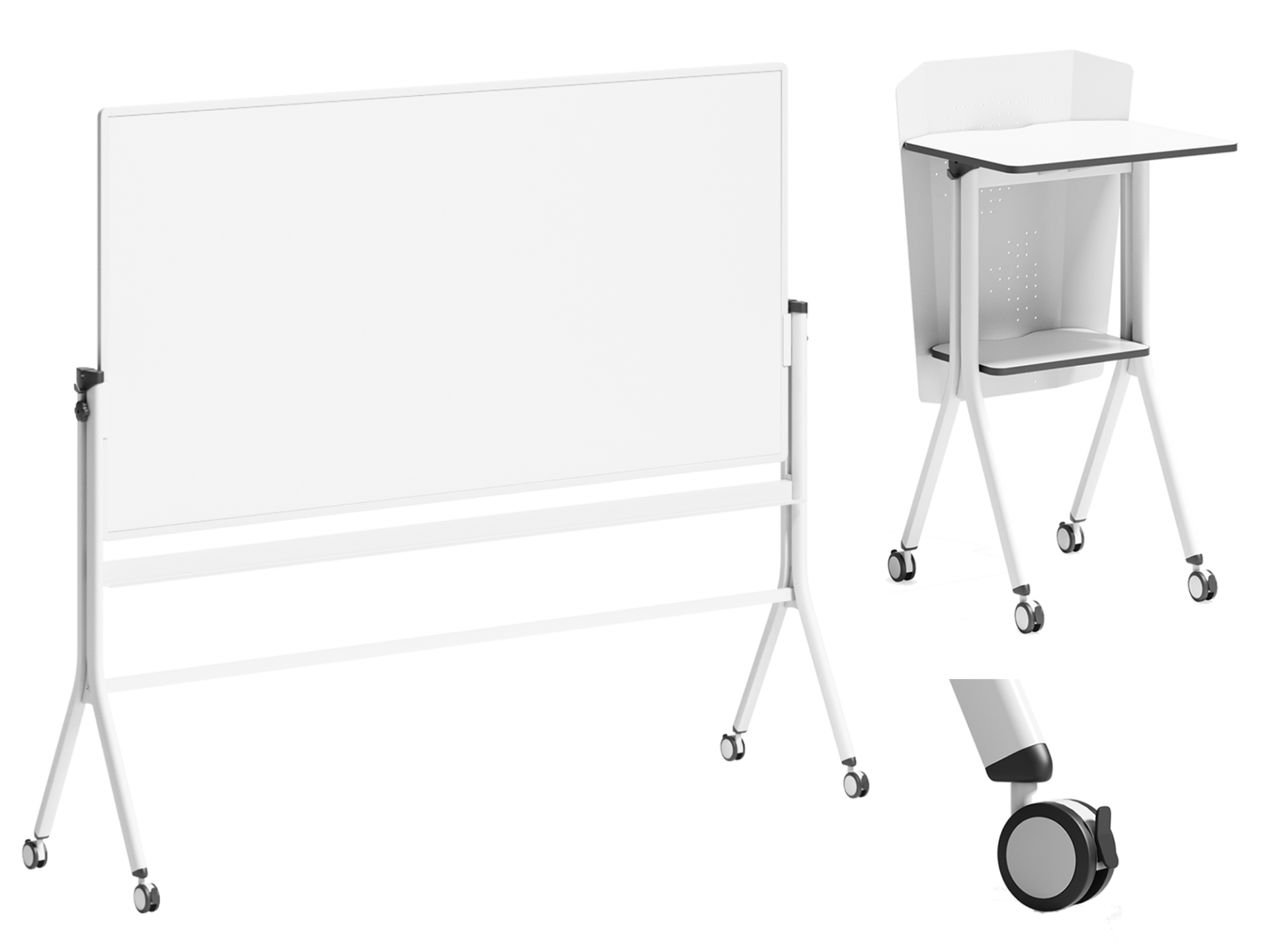 4. Easy Storage

You can store these training tables and chairs easily when you need to save space for sports or other team activities. The nesting feature and tilt-top option provide a quick transition to storage and minimization of space, just by pushing the table's switch to turn it by 90 degrees and folding chairs then stacking them together.
5. Multiple applications for different collaborative activities

Not every moment there is available space in the office for a dedicated meeting or training. For such situations, DIOUS training furniture sets are the ideal solution. They are perfect for a spontaneous quick discussion, creative brainstorming or temporary workspaces.

The clean, simple design is easy to place in canteens, cafes or meeting rooms and other areas in offices. For sales, these training tables become temporary computer desks. They can be used as lecture tables during speech or exhibition tables in a promotion activity.

Moreover, you can use them as writing desks, study tables, and school tables on more occasions, such as in schools, hospitals, restaurants, and libraries.
Dious comprehensive services for clients
DIOUS has everything you need to complete your perfect training room setup. Since 2005, it has been serving clients with high-quality furniture. We have all types of furniture you need to use in your company. Our products are ergonomically designed and stylish to ensure comfort, safety, and elegance.

Besides quality products, DIOUS provides good solutions proposals. With a fast response, we design free rendering/layout according to your requirement.

Contact us for any queries or to get a quote. Let's work together and help your projects more efficient and benefits winning.
What Can We Do for You

ODM & OEM

Customization

Fast Delivery from Stock

CAD Layout & Rendering
No.422, Jin'ou Road, Jianghai District, Jiangmen City, Guangdong, China
Follow Us