Stay Ahead of the Curve: 2023 Trends in Meeting Room Furniture
Staying up-to-date with the latest trends in meeting room furniture design is extremely important as it allows you to create meeting spaces that inspire collaboration and productivity. Having the right furniture can make a massive difference because first impressions and efficient meetings nowadays matter more than ever. Read on to learn about the key aspects of staying updated with meeting room furniture trends, common mistakes to avoid, and explore the latest 2023 trends.
Common Mistakes When Choosing Conference Room Furniture
Getting meeting room furniture right is very important. Choosing the wrong pieces can result in discomfort, hindered collaboration, and more. Some of the common mistakes to avoid when choosing it include the following:
Underestimating Storage:

Ignoring adequate storage solutions can

disorganize

and hinder smooth presentations.
Overlooking Flexibility:

Fixed furniture limits adaptability, hindering collaboration and innovation. Inflexible setups stifle creativity and effective communication by restricting reconfiguration for diverse meeting needs.
Ignoring Comfort:

Uncomfortable furniture leads to distracted participants, reduced engagement, shorter attention spans, and physical discomfort that detracts from discussions.
Disregarding Aesthetics:

Ignoring meeting room aesthetics creates a dull, uninspiring environment that dampens mood and motivation. This can lower discussion quality and convey a lack of workspace value, reflecting poorly on the organization.
Choosing the Wrong Size:

Mismatched furniture sizes disrupt the room's balance—cramped spaces make participants uncomfortable, while overly large ones feel empty and detached, both undermining the meeting's effectiveness.
2023 Meeting Room Tables And Chairs Trends
Awareness of the latest meeting room furniture trends can help keep your meeting spaces fresh and functional. The following are the key trends for 2023 you should consider when revamping your meeting spaces:
Sustainable and Eco-Friendly Designs
Eco-consciousness is a trend in every niche, and meeting room furniture is no exception. Sustainable materials and recyclable components are becoming increasingly important in creating eco-friendly workspaces.
Collaborative Spaces and Configurations
In the spirit of teamwork and interaction, furniture designs are focused more on collaborative layouts. Modular seating, movable tables, and adaptable arrangements encourage dynamic discussions and collaborative brainstorming.
Ergonomic Designs for Comfort
Comfort is a top priority when it comes to meeting room furniture design. Ergonomically designed mesh desk chairs and furniture minimize discomfort and fatigue, allowing attendees to remain at ease during long meetings.
Aesthetics and Design Statements
Meeting rooms have evolved beyond functionality to become design showcases. Businesses can utilize ODM (Original Design Manufacturer) and OEM (Original Equipment Manufacturer) solutions to incorporate distinct textures, colors, and creative furniture designs, enabling them to reflect brand identity and establish remarkable, memorable environments.
Dious Furniture – Top Provider of 2023 Meeting Room Layout Solutions
Dious Furniture is a seasoned provider of dependable meeting room furniture solutions. Our brand is well-known for its quality and wide range of furniture products, prioritizing comfort, aesthetics, and functionality. We offer products that align perfectly with the 2023 meeting room furniture trends. Our top offerings in the category include the Milano Meeting Table, Ferrari Conference Table, and DT-8501 Conference Chair.
The Milano Meeting Table allows you to upgrade your meeting space with modern elegance. Its stylish design enhances the appearance of conference rooms, and its many customizable features ensure a tailored fit. Its key features/characteristics include:
Modern geometric design

Flexible customization

Comprehensive range

Collaboration-friendly

Virtually hidden sockets

Available in two colors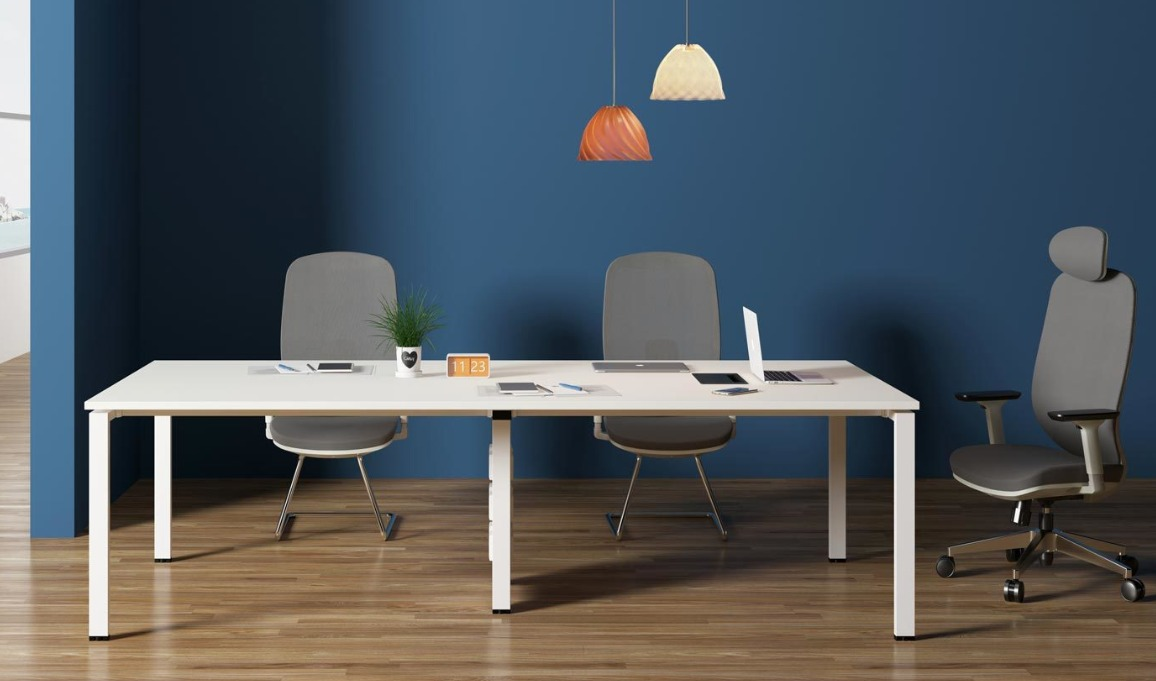 Combining blister technology and metal design elements, the Ferrari Conference Table represents elegance and professionalism to enhance your executive office design. Its unique base design ensures ample legroom and stability for comfort during extended discussions. Its key characteristics include:
High-quality metal design elements

Stylish and modest

Roman column arc curve, suitable for private office

Ample legroom

Extremely stable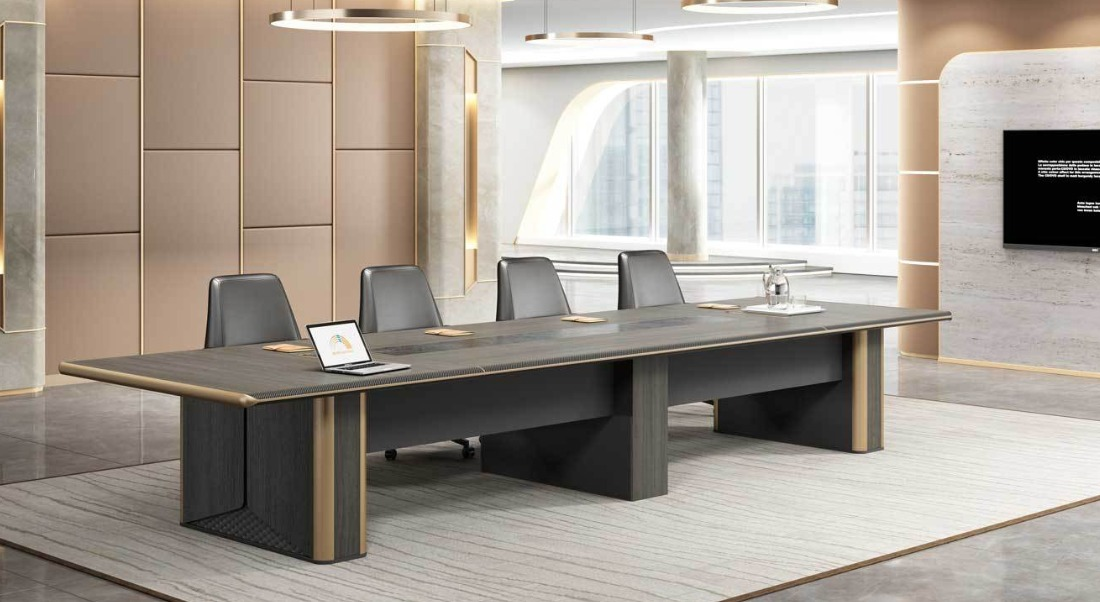 The DT-8501 Conference Chair combines classic aesthetics with modern comfort. Its spacious, elegant design accommodates various settings and offers a comfortable seat for prolonged meetings. Its key characteristics include:
Classic and timeless design

Very versatile and suitable for many applications

Comfortable and luxurious with high-quality upholstery

Ideal for prolonged meetings thanks to its big-size space for sitting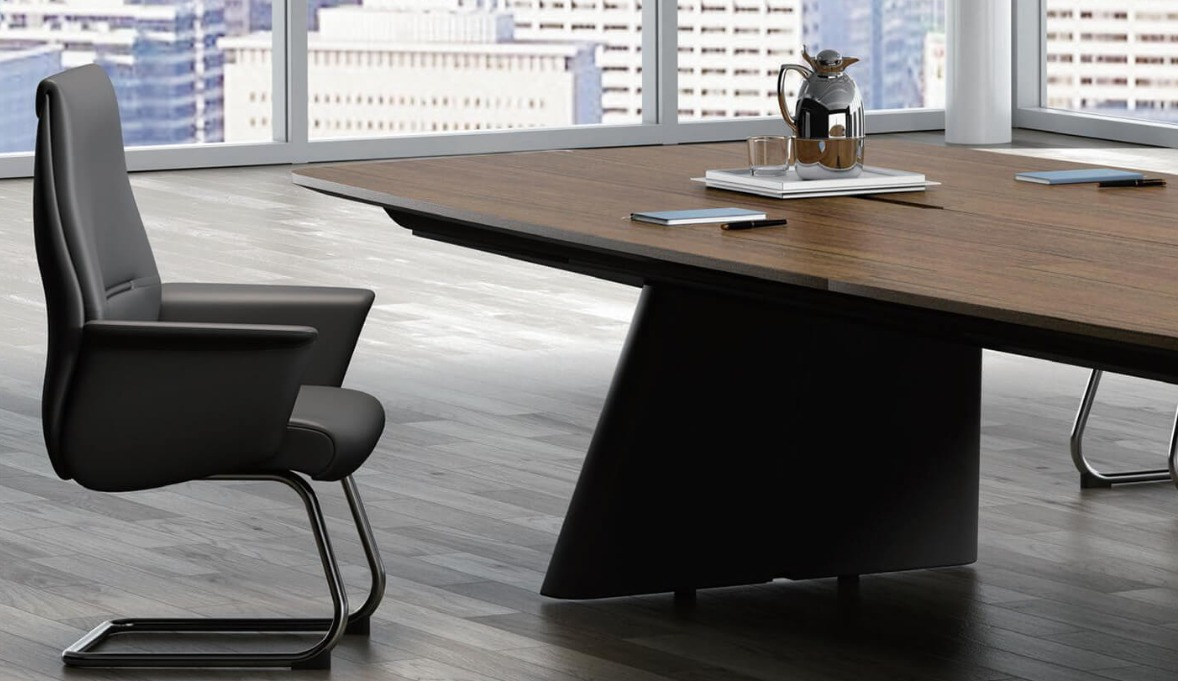 Conclusion
Staying ahead of conference room table and chair trends has become necessary. By avoiding common mistakes and embracing the above-listed 2023 trends, you will create spaces that foster collaboration, comfort, and productivity. When it comes to reliable and innovative solutions in this category, the reputed brand Dious Furniture is a recommended choice. Dious Furniture, a top office furniture leader, rigorously tests products to meet international standards for ergonomics, safety, and eco-friendliness, securing a competitive market advantage.
With our top offerings, like the Milano Meeting Table, Ferrari Conference Table, and DT-8501 Conference Chair, we showcase our industry experience and quality craftsmanship. Visit our website to explore our large collection of 2023 meeting room furniture and update your executive office space today.
What Can We Do for You

ODM & OEM

Customization

Fast Delivery from Stock

CAD Layout & Rendering
No.422, Jin'ou Road, Jianghai District, Jiangmen City, Guangdong, China
Follow Us